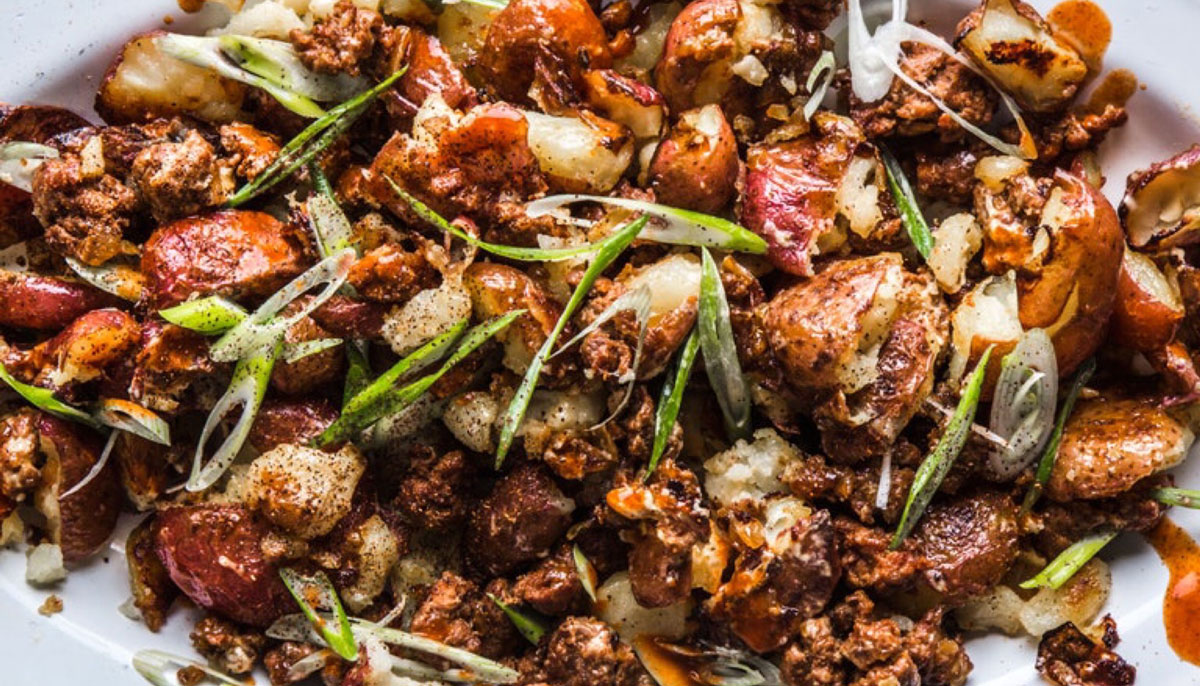 01 Apr Potato Salad with Chorizo, Aioli, & Scallions
Recipe courtesy of Andy Baraghani of Bon Appetit.
Tired of the same, boring potato salad? The talented Andy Baraghani of Bon Appetit has put together a recipe that will surely add some zest to yours! The only thing we're substituting is his choice of chorizo with our "Guerra's Brand" Inc. pork option. We hope you love it! We definitely did!
Preparation time: 45 Minutes 
Serves: 6
Ingredients:
2 lbs. of small, red-skinned potatoes 
Kosher salt
¾ cup and 2 tablespoons of vegetable oil, separated
1 finely-chopped, medium onion 
1 pack of "Guerra's Brand" Inc. pork chorizo
1 large egg yolk
1 grated garlic clove 
2 teaspoons of fresh lemon juice
3 thinly-sliced scallions, separated
Ancho chile powder and hot sauce (optional) 
Directions:
Preheat your oven to 450° F.
Place the potatoes into a large pot of cold water seasoned with salt.
Bring the potatoes to a boil and reduce heat to simmer for about 25 minutes or until tender. 
Drain and let the potatoes cool on a baking sheet. 
Once cooled, flatten the potatoes with your hand or the bottom of a mug. Allow the skin to tear slightly. 
In a medium-sized skillet, heat ¼ cup of vegetable oil over medium heat. 
Cook the finely chopped onion for about 5 minutes or until soft. 
Add the chorizo to the skillet and cook for about 5 to 7 minutes or until brown. 
Add the chorizo oil to the vegetable oil and set aside. 
In a medium bowl, whisk the egg yolk, garlic, and water. Whisk in the chorizo, vegetable oil mix, and lemon juice until the mixture thickens to make aioli.
Sprinkle salt over the potatoes and place in the oven for 20 to 25 minutes or until the outer edges are golden. 
In a large bowl, toss the potatoes, chorizo, onion mix, and half of the aioli mix.
Spread the remaining aioli mix on top of the potato salad and add the chile powder. 
Serve with hot sauce. 
Enjoy!
For your next potato salad dish, kick up the flavor by adding our chorizo. Let us know how it is by tagging us on Facebook, Twitter, or Instagram.