16 Aug Porterhouse Prime Steak with Summer Au Poivre Sauce
Photo courtesy of Alex Lau and recipe courtesy of BonAppetit.com.
The grill is on, the prime steak is sizzling, and the aroma of prime beef is in the air! Now picture that steak being a massive, 42-ounce chunk of beef. If you want more flavor, then we have a unique recipe courtesy of the brilliant chefs at BonAppetit.com. We'll be using our prime 42-ounce porterhouse steak.
Enjoy!
Preparation Time
15 minutes
Cooking Time
35 minutes
Yields
2 to 4 servings
Ingredients
3 tablespoons of drained pickled green peppercorns, chopped
½ a cup of packed basil leaves, diced
½ a cup of sliced mint leaves
½ a cup of extra virgin olive oil
Kosher salt
1 porterhouse steak – prime and two inches thick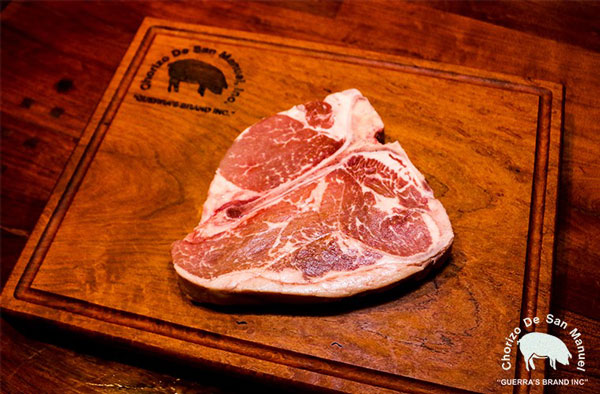 Directions
Prepare the outdoor grill for indirect heat. For a gas grill, leave one or two burners off, and for a charcoal grill, place the coals on one side.
In a bowl, combine two tablespoons of peppercorns, basil leaves, mint leaves, and olive oil. Season with salt and set aside for serving.
Generously season the steak with salt and place over the direct heat on the grill. Keep the smaller side of the porterhouse away from the intense heat and turn the steak about once a minute for 6 to 8 minutes.
Move the steak to the indirect heated side and turn every 1 to 2 minutes to continue an even roast for 10 to 12 minutes or until the thickest part of the steak registers 120˚F on a thermometer.
Transfer the steak to a wire rack to rest for 15 minutes.
Move the steak to a cutting board, cut the meat off the bone, slice crosswise, serve with the Au Poivre sauce, the remaining peppercorns, and enjoy!
Order our Prime Steak Online!
Once you try our porterhouse, you'll want to grill our other prime beef products like prime New York strips, prime ribeye steaks, and the best beef fajitas around! Contact us to order steaks online!