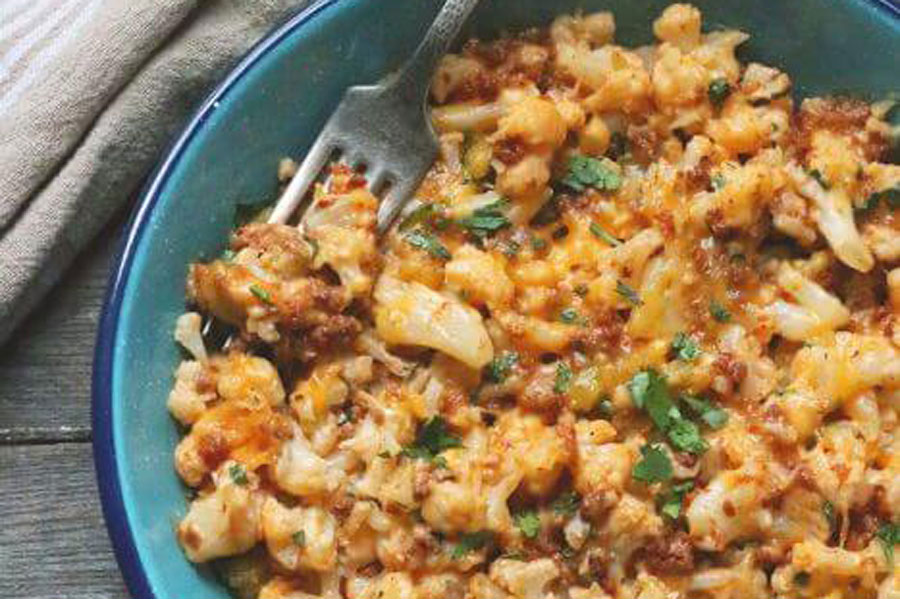 27 Jan Enjoy a Helping of Pork Chorizo and Green Chili Cauliflower Mac N' Cheese
Recipe and picture courtesy of I Breathe I'm Hungry.
Indulge in macaroni and cheese with a healthy twist for a guilt-free dinner! Substitute with our pork chorizo, beef chorizo, chicken chorizo  or San Luis chorizo. Thank you to the chefs from I Breathe I'm Hungry for this delectable recipe!
Total Time
45 Minutes
Yields
4 Servings
Ingredients
2 tablespoons of butter
4 ounces of our Texas brand chorizo*
1/8 teaspoon of kosher salt
4 cups of raw cauliflower florets
1/4 cup of heavy whipping cream
1 tablespoon of chopped fresh cilantro
1/2 cup of shredded sharp cheddar cheese
2 tablespoons of mild chopped canned green chilis
*Chef's note: You'll cook and use 1/3 cup for this recipe.
Directions
Spread out and microwave your cauliflower in a microwave-safe casserole dish for 10 minutes or until partially tender.
Cook our pork chorizo or San Luis chorizo in a small sauté pan.
Drain the extra fat.
Measure out 1/3 cup of the cooked chorizo for this recipe and reserve any extra for another use.
Remove the cauliflower from the microwave and stir in the heavy whipping cream, butter, chopped chilis, cooked chorizo, shredded cheddar, salt, and chopped cilantro.
Once thoroughly combined, bake in the oven at 375 degrees Fahrenheit for 15 minutes or until cauliflower is tender and the cheese is melted and bubbling.
Order Pork Chorizo Online
If you have any questions about our Mexican chorizo products, then send us a message online! Order our chorizo online, and share us your favorite chorizo recipes on Instagram and Facebook.