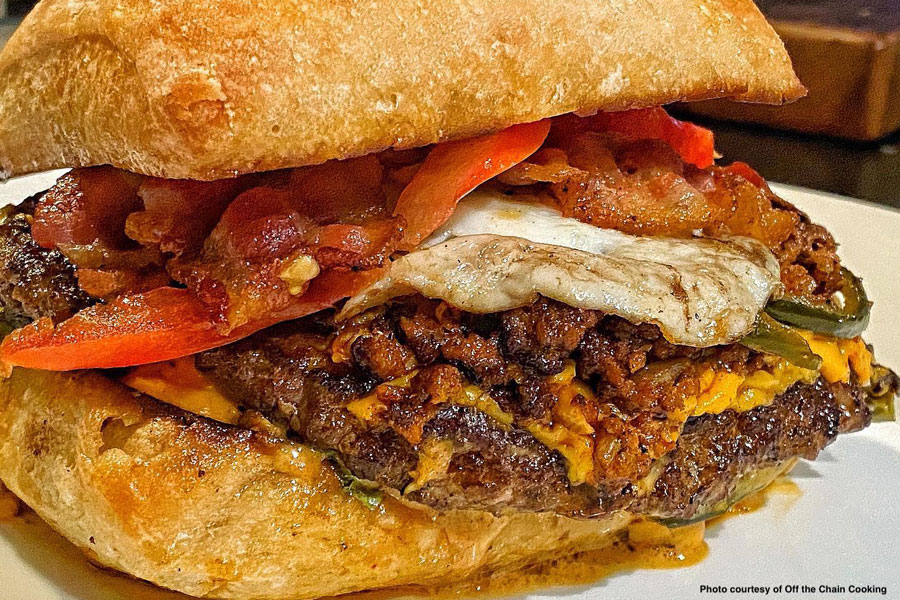 28 Apr Pork Chorizo Bacon Smash Burgers with a Fried Egg!
Recipe, photo, and video courtesy of Off the Chain Cooking on Instagram. 
Spring is perfect for firing up the skillet! Instead of making regular hamburgers, boost those flavors with bacon, jalapeños, a fried egg, and the best chorizo available! Today's recipe comes to us from Off the Chain Cooking on Instagram and includes a video demonstration. 
If you don't have a large skillet, then no problem! Cook the ingredients one at a time. For the hamburger patties, use our quarter-pound patties, one of the many prime beef products you'll find at Chorizo de San Manuel.  
Preparation Time
10 minutes
Cooking Time
30 minutes 
Yields
4 burgers 
Ingredients
1 pack of our pork chorizo 
12 slices of bacon 
2 pounds of our ground beef 
1 large sliced white onion
8 ciabatta bread buns 
4 eggs 
Canola oil
Directions 
On the flat skillet, raise the heat to medium and add the canola oil. 
Lightly toast the ciabatta buns on each side.
Cook the bacon for 1 to 2 minutes. 
Cook the eggs sunny side up. 
Cook the chorizo for five to seven minutes.
When cooking the patties, sprinkle the sliced onions on top and smash them into the beef. 
After three to five minutes of cooking, add a slice of cheddar cheese to each patty and top with the chorizo, jalapeños, egg, and bacon. Cook for one more minute. 
Let the burgers sit for a minute and serve.
Enjoy!
Be sure to tag us on Facebook, Twitter, and Instagram. Pick up some of our chorizo at your local grocery store or buy chorizo online with our nationwide shipping!