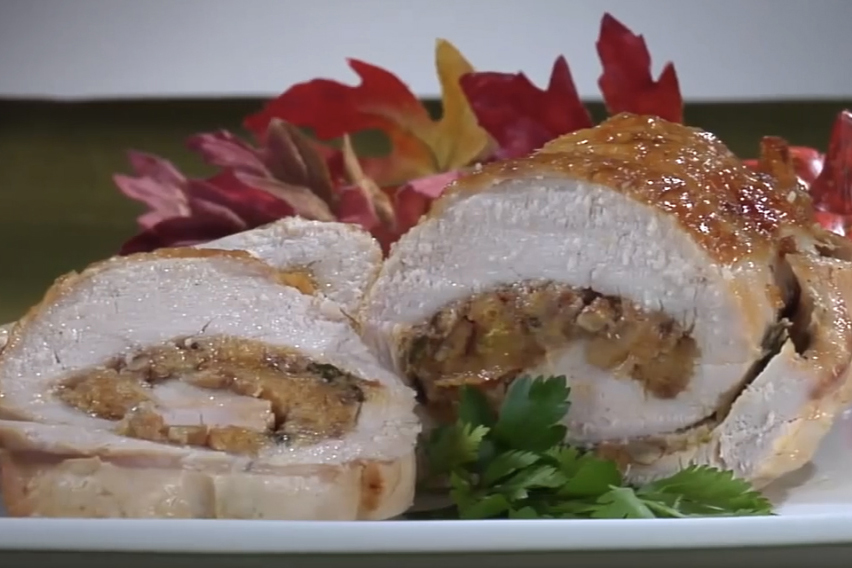 19 Dec

How to Make Poblano Turkey Roulade with Chorizo de San Manuel

Recipe, photo, and video courtesy of H-E-B.

If your two favorite foods are turkey and chorizo, then we have the perfect dish for you! This poblano turkey roulade recipe makes 12 servings and is perfect for the upcoming holidays. This dish comes to us from the very talented chefs at H-E-B. It includes a nice helping of chorizo, but we thought to add just a little more oomph to the recipe by substituting their choice with our own Guerra's Brand Chorizo. Check it out!

Ingredients:
2 poblano peppers
1 12 lb. fresh H-E-B turkey breast
1/8 tsp. of kosher salt
1/8 tsp. of black pepper
2 tbsps. of H-E-B extra virgin olive oil
4 ounces of Chorizo de San Manuel Guerra's Brand Chorizo
1 diced medium white onion
2 H-E-B garlic cloves, peeled and chopped
1 diced celery
3 cups of H-E-B cornbread stuffing
½ cup of crushed pecans
1 H-E-B cage-free large brown egg
1½ cup of H-E-B chicken broth
Butcher's twine
Cooking thermometer (if possible)
Directions:
Preheat your oven to 400°F.
Place the two peppers on a sheet pan and roast them in the oven for about six minutes on each side until they're blackened. Let them cool for a few minutes and peel and dice.
Set your oven to 325°F.
Slice the turkey breast butterfly-style and place it skin-side down on a clean cutting board. Next, cover the turkey with plastic wrap and pound it with a meat mallet until it reaches a ½ inch in thickness. Remove the plastic and season generously with your salt and pepper and set aside.
Over medium heat, begin heating the olive oil in a medium-sized pan and add the chorizo. As this cooks, mix in the garlic, onions, and celery. Keep cooking for about three to four more minutes until the chorizo is done and the onions are transparent.
In a large bowl, combine the chorizo mix, cornbread stuffing, roasted poblano peppers, pecans, the egg, and chicken broth.
Spread the stuffing mix over the turkey breast but leave a one-inch border on all sides. Then, from one end, roll it up.
Using the butcher's twine, tie the rolled turkey in four places at equal distances apart.
Pour more olive oil onto the turkey and add more salt and pepper.
Place the turkey on a baking pan and roast for 1-1½ hours or until the internal temperature reaches 165°F.
Remove from the oven and let it sit for 20 minutes before cutting into ½-1-inch thick slices and serve.
If you try this recipe at home, take a photo and tag us on one of our social media accounts below!
Enjoy!