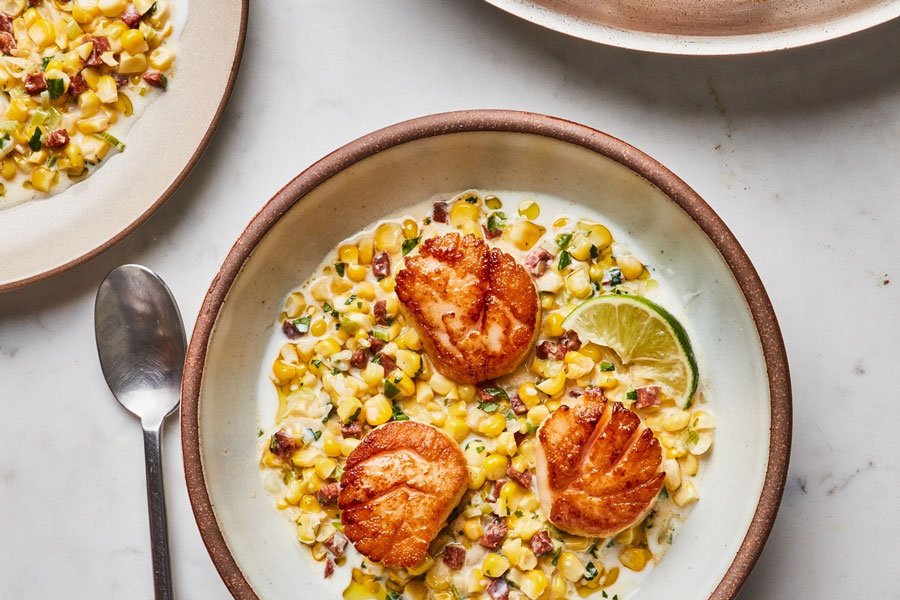 23 Aug

Pan-Seared Scallops with Chorizo and Corn

Recipe and photo courtesy of BonAppétit.com.

What do you get when you combine a taste of the sea with our delicious chorizo? Pan-seared scallops with chorizo and corn! We promise that this is delicious, and you won't have any regrets if you cook it yourself. This week's recipe comes to us from the skilled chefs at BonAppétit.com and it's incredible! For the chorizo, we've substituted in our Texas brand of chorizo.
Preparation Time
15 minutes
Cooking Time
20 minutes
Yields
4 servings
Ingredients
3 ears of corn, husked
3 tablespoons of extra-virgin olive oil, divided
2 ounces of our pork chorizo
12 thinly sliced scallions, white and pale green parts only
4 garlic cloves, thinly sliced, split, and shredded
1 finely chopped serrano chile
¾ of a teaspoon of kosher salt
1 cup of buttermilk
1/3 of a cup of chopped cilantro
12 large sea scallops, patted dry, and side muscle removed
2 tablespoons of unsalted butter
1 lime sliced into wedges for serving
Directions
Cut the kernels from the cobs and place them in a bowl.
Using a chef's knife, scrape the milk from the cobs into the bowl
Over medium heat, heat one tablespoon of olive oil in a medium saucepan and cook the chorizo for about two minutes. Drain the excess grease into a small bowl and set it aside for later.
Return the chorizo to the pan and add the scallions, garlic, serrano chile, salt, and one tablespoon of olive oil. Cook for about two minutes or until the veggies have softened.
Add the bowl of corn and cook for five to seven minutes or until the corn becomes bright yellow.
Remove the pan from the heat and let the corn cool for five minutes.
Stir in the buttermilk and cilantro and add salt if needed.
In a large saucepan, add a tablespoon of olive oil and the excess chorizo oil and cook over medium to high heat until the pan begins to smoke.
Add the scallops and cook for about three minutes or until a golden crust forms on them.
Reduce the heat to low, flip the scallops, and add butter. Baste the scallops for about 30 seconds then transfer them to a plate and squeeze half a lime over them.
Divide the corn mixture among the plates and top with scallops. Serve with lime wedges and enjoy!
Order our Chorizo Online!
Check out our other chorizo recipes made with the best chorizo around. Buy chorizo online and we'll ship it to your door with our nationwide shipping. Contact us to place your order today!