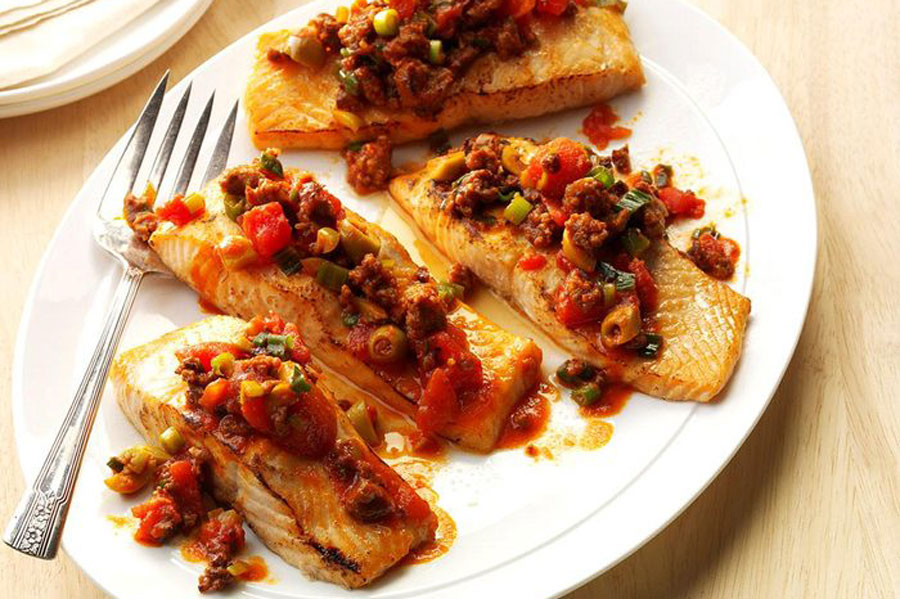 28 Dec

Order Chorizo Online for the Ultimate Seafood Combination!

Recipe and photo courtesy of Taste of Home.

Salmon is just one of the best ways to experience fine dining, all in the comfort of your home! So what happens when you add a little Hispanic flare into the mix by adding your favorite Mexican chorizo? Something truly savory.Try making this home-cooked recipe with a hint of citrus and a bite of spiciness that anyone can enjoy! We want to thank the creative chefs at Taste of Home for this recipe.
Preparation Time
15 minutes
Cooking Time
10 minutes
Serves
4

Ingredients
¼ teaspoon salt
¼ teaspoon pepper
2 garlic cloves, minced
4 green onions, chopped
4 salmon filets (6 ounces each)
½ teaspoon grated orange zest
3 links (3-4 ounces fresh chorizo)
¼ cup of chopped pitted green olives
1 can (14 ½ ounces) diced tomatoes, drained
Directions
Remove our Mexican chorizo from casings.
In a large ovenproof skillet on a stove or grill, cook and stir chorizo, green onions, and garlic over medium-high heat until cooked through, 4-6 minutes, breaking chorizo into crumbles; drain.
Reduce heat to medium.
Add tomatoes, olives, and orange zest; stir to combine.
Sprinkle salt and pepper over salmon.
On a greased grill rack, grill salmon, covered, over medium heat until fish begins to flake easily with a fork, 3-4 minutes per side. Top with chorizo mixture.
Need Chorizo? Check out our Signature Chorizo flavors!
Our chorizo recipe is one of the best in south Texas! Whether it is on your breakfast mornings or a recipe, our chorizo is sure enough to go with anything and everything you may need! Check out our great selection of chorizo flavors and see what makes our chorizo the best! Our signature chorizos include :
Our Pork Chorizo is one of the most popular choices in chorizo flavors
Our Beef Chorizo gives the best melt-in-your-mouth flavor with a nice garlic finish.
Our Chicken Chorizo has a leaner taste but a combination of flavor and our signature spices.
Chorizo De San Luis contains just the right fat content for a juicy and savory pork flavor with a much-concentrated spiciness to go with every bite.
Order Chorizo Online
Order chorizo online today or find in your local grocery store. Make sure to improve your cooking skills in the new year with even more recipes! Show us some of your culinary favorites on our Instagram and Facebook!