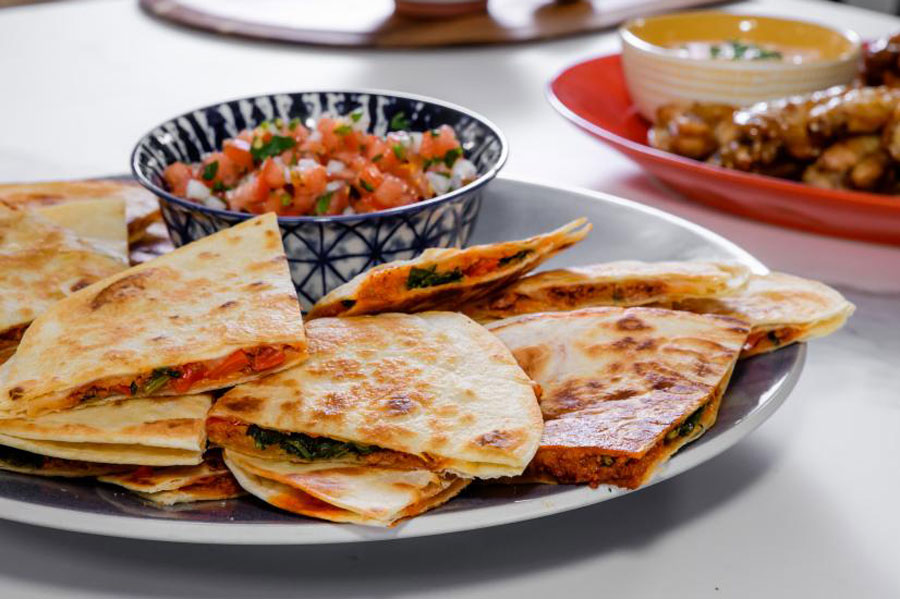 17 Oct Enjoy a Mexican Chorizo and Veggie Quesadilla
Photo and recipe courtesy of The Food Network.
It's time level up your quesadilla game! Experience the bold flavors of Mexico with our mouthwatering Mexican chorizo and veggie quesadilla. Each bite is a delicious fusion of savory, spicy chorizo and a medley of fresh, colorful vegetables, all embraced by warm, melted cheese, and tucked into a perfectly toasted tortilla. We want to thank the creative chefs for this recipe at the Food Network.
Preparation Time
10 mins
Cooking Time
30 mins
Servings
6
Ingredients
1 tablespoon butter 
Salsa, for serving
1 tablespoon olive oil
8 ounces Mexican chorizo 
3 cups fresh spinach 
8 flour tortillas (about 7 inches in diameter) 
8 ounces shredded Mexican cheese blend 
1 medium red bell pepper, cut into 1/2-inch pieces  
Directions
Heat the oil in a large nonstick skillet over medium-high heat. 
Add the chorizo and cook, stirring, until aromatic and browned, about 4 minutes. 
Reduce the heat to medium and add the bell pepper. Cook, stirring, until slightly softened, about 3 minutes. 
Add the spinach and toss until wilted. Cool slightly.
Lay out 4 of the tortillas and sprinkle with half of the cheese (about 1/4 cup per tortilla).
Divide the chorizo mixture among them, then sprinkle with the remaining cheese. Top with the remaining tortillas.
Wipe the skillet clean and melt the butter over medium-high heat. 
Carefully transfer 2 of the quesadillas to the skillet and cook, flipping once, until golden brown and melty, about 3 minutes per side; transfer to a cutting board. 
Cook the remaining 2 quesadillas. Cut each into 4 pieces and serve with salsa.
Check out More Recipes at Chorizo De San Manuel!
Chorizo de San Manuel has all kinds of recipes to choose from, so don't delay and check out all sorts of unique and tasty Mexican chorizo recipes that all your family will love and enjoy! Check out more recipes online!