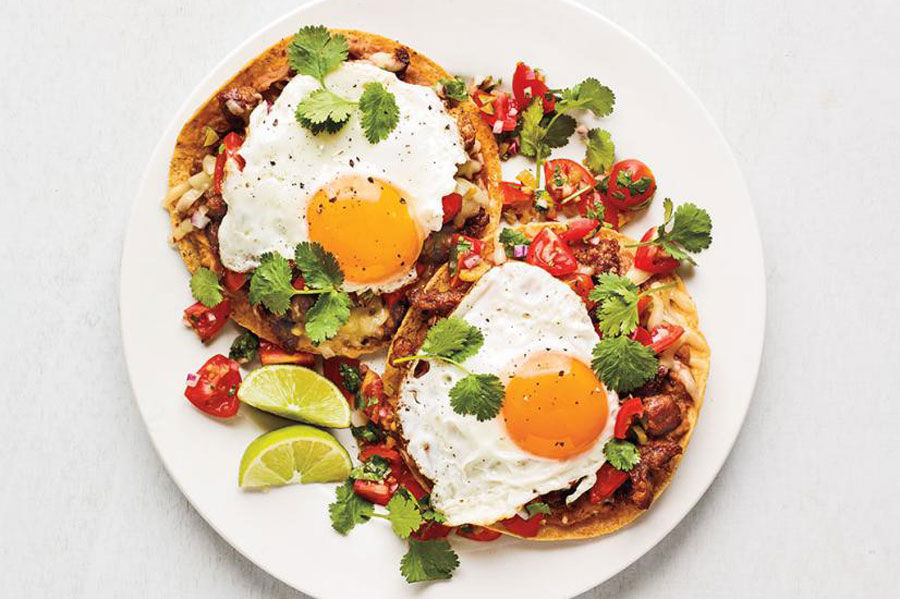 22 Feb

Breakfast for 4 with Mexican Chorizo Tostadas

Recipe and photo courtesy of Food Network.

Are you looking for some recipes to spice up your breakfast? If you love mixing dinner and breakfast, this recipe is for you! Crispy Mexican chorizo tostadas topped with your favorite toppings such as cheese, and pico de gallo, you can't go wrong with such robust flavors. We want to thank the chefs at the Food Network for this recipe.
Preparation Time
10 mins
Cooking Time
30
Serves
4
Ingredients
● Kosher salt
● 8 large eggs
● 8 tostada shells
● Freshly ground pepper
● ½ small red onion, finely diced
● one 14.5-ounce can of refried beans
● 2 tablespoons extra virgin olive oil
● ½ pound fresh chorizo, casings removed
● 1 ¼ cups diced cherry tomatoes (about 8 ounces)
● 1 tablespoon fresh lime juice, plus wedges for serving
● 1 cup of shredded pepper jack cheese (about 4 ounces)
● ½ cup packed fresh cilantro, chopped, plus more for serving
● 2 tablespoons pickled jalapeños, finely chopped, plus 1 tablespoon brine
Directions
● Preheat the oven to 425 °F. Combine the tomatoes, red onion, jalapeños and brine, cilantro, lime juice, 1 tablespoon olive oil, and ¼ teaspoon salt in a medium bowl.
● Arrange the tostadas on 2 baking sheets and bake until golden brown, rotating the pans halfway through, about 5 minutes. Remove from the oven.
● Divide the refried beans among the tostadas (about 2 heaping tablespoons each) and spread evenly, leaving a ⅛ inch border.
● Crumble our Mexican chorizo on top of the beans. Return the tostadas to the oven and cook until the chorizo is cooked through, about 10 minutes.
● Top with the cheese and continue baking until melted, 1 to 2 more minutes.
● Meanwhile, heat the remaining olive oil in a large nonstick skillet over medium-high heat.
● Add the eggs and cover and cook until the whites are fully set, but the yolks are still runny for two to three minutes.
● Divide the Mexican chorizo tostadas among plates. Top with tomato mixture, fried eggs, and more cilantro. Serve with lime wedges.
Order Chorizo Online!
Looking for more flavors to try out for your recipes? Try our signature flavors, all available online on our website! Our products are ready to go and ready to ship anywhere! If you're looking for ways to spice up your recipes, then try out some of our:
● Signature recipe pork chorizo
● Savory and tender Beef chorizo
● Lean and juicy Chicken chorizo
● Classical spicy San Luis chorizo
Check out our available products and amazing deals on the Chorizo De San Manuel website!
For more information on our amazing products, check it out here!
Make these Mexican Chorizo Tostadas and Check out More Recipes at Chorizo De San Manuel!
Check out more recipes and cooking methods online, and show us some of your culinary favorites on our Instagram and Facebook!