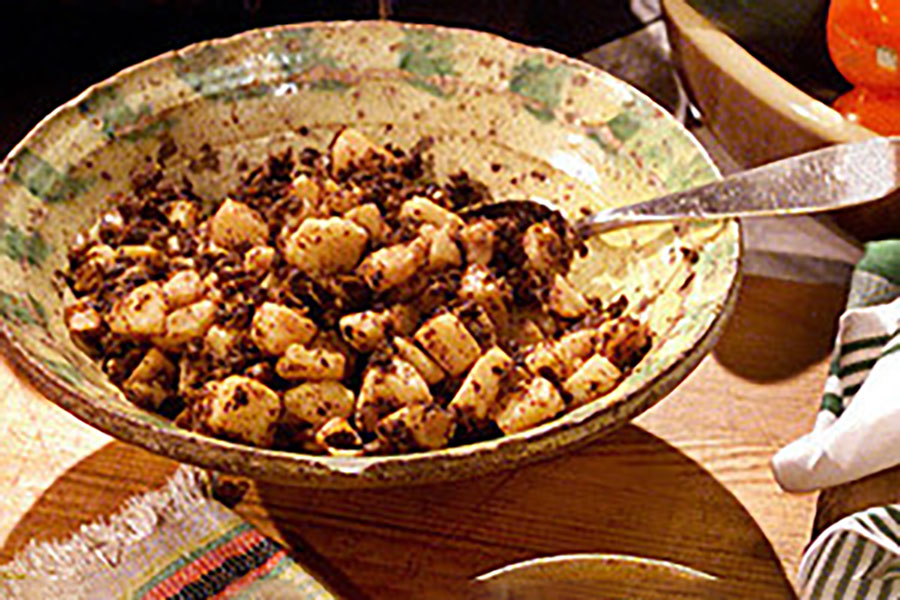 15 Mar

Make Dinner Easy with 9-Ingredient Mexican Chorizo Tacos Recipe

Photo and recipe courtesy of MarthaStewart.com

If you love a good Mexican chorizo tacos recipe, then this one is for you! This recipe uses Mexican chorizo as the base ingredient, which is the best part of chorizo. It can be used in various recipes such as tacos, enchiladas, and nachos! We want to thank chef Rick Bayless from MarthaStewart.com for this Mexican chorizo tacos recipe!
Preparation Time
15 mins
Cooking Time
15 mins
Serves
4-6
Ingredients 
Coarse salt
1 clove garlic
12 corn tortillas
1 jalapeno, stemmed
1 large avocado, peeled and pitted
1 small white onion, finely chopped
1 pound 

Mexican chorizo

 sausage, casing removed
3 medium tomatillos (about 4 ounces), husked, rinsed, and coarsely chopped
3 medium red-skin boiling or Yukon gold potatoes (about 1 ½ pounds), peeled and cut into ½ inch cubes (about 2 cups)
Directions
1 medium saucepan, bring 1 quart of salted water to a boil.
Add potatoes and simmer until tender, about 10 minutes. Drain and set aside.
In a large skillet, combine chorizo and onion over medium heat.
Stir until sausage is cooked through and onion is soft, about 10 minutes. Add potatoes and continue to cook over medium heat until potatoes begin to brown or about 8 minutes.
As the mixture cooks, mash everything together a little with the back of a spoon or a spatula, scraping up any crusty bits of potatoes so that it roughly holds together. Cover, and keep warm over very low heat.
Meanwhile, combine tomatillos, garlic, and jalapeno in a food processor. Pulse until fine, then add avocado and pulse until combined. Season with salt.
Wrap tortillas in a warm, damp kitchen towel, put them in a microwave-safe casserole, and cover them. Warm in the microwave for 4 minutes, remove and let stand a few minutes. Top each tortilla with potato mixture and avocado salsa, fold in half, and serve.
Try this Mexican Chorizo Tacos Recipe and Check out More Recipes at Chorizo De San Manuel!
From our elite meat gift boxes to our fine selection of choice and prime steaks, there is nothing that Chorizo De San Manuel doesn't provide with care. Order prime steaks and beef products, and purchase our signature meat gift boxes! Check out more Mexican chorizo recipes, and order chorizo online, plus more!