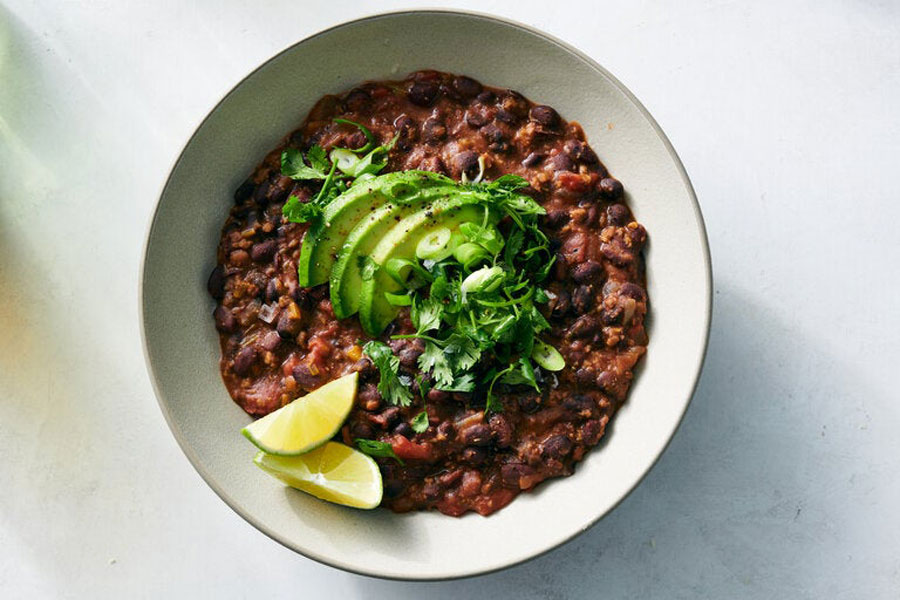 12 Jul

Simple 10 Ingredient Black Bean and Mexican Chorizo Stew

Recipe and photo courtesy of Cooking.NewYorkTimes.com

Summer time in Texas is famous for it's BBQs, tacos, and chili cook-offs, and nothing says summer like our Chorizo De San Manuel. Not only do we sell prime beef products, marinated beef and chicken fajitas, but savory Mexican chorizo.

Combine your favorite chorizo with a classic black bean stew that everyone is sure to love in the summer! Not only does it have a unique spiciness to it, but brings out it's fresh and zesty flavor using your favorite chorizo brand! We want to thank the creatives at Cooking.NewYorkTimes.com for this perfect summer Mexican chorizo stew recipe!

Substitute with your favorite– beef chorizo, pork chorizo, chicken chorizo and San Luis chorizo.
Prep Time
10 minutes
Cooking Time
1 hr 45 mins
Servings
6-8
Ingredients
1 large onion, diced
Lime wedges, for serving
Sliced scallion, for serving
Diced avocado, for serving
½ batch (12 ounces) of chorizo
2 tablespoons extra-virgin olive oil
2 tablespoons kosher salt, more as needed
1 (28-ounce) can of diced plum tomatoes with their juices
¼ cup chopped cilantro stems, leaves reserved for serving
7 cups cooked black beans (from 4 cans or 1 pound of dried beans), drained
Directions
Heat oil over medium heat in a large Dutch oven or heavy-bottom pot.

 

Add onion and cook until softened 5 to 10 minutes.

 

Stir in chorizo and cilantro stems and cook for 5 minutes over high heat, or until much of the liquid has evaporated.
Stir in beans, tomatoes, and their liquid, and 1 cup water.

 

Bring mixture to a boil over high heat; reduce to medium.
Partly cover pot and simmer until tomatoes have fallen apart, about 1 hour to 1 hour 15 minutes.

 

Season with salt and serve topped with avocado, scallions, cilantro leaves, and lime wedges.
Try Out this Mexican Chorizo Stew Recipe
Looking for more flavors to try out for your recipes? Try our signature flavors! Our products are ready to go and ready to ship anywhere! Contact us with any questions regarding shipping and order chorizo online.