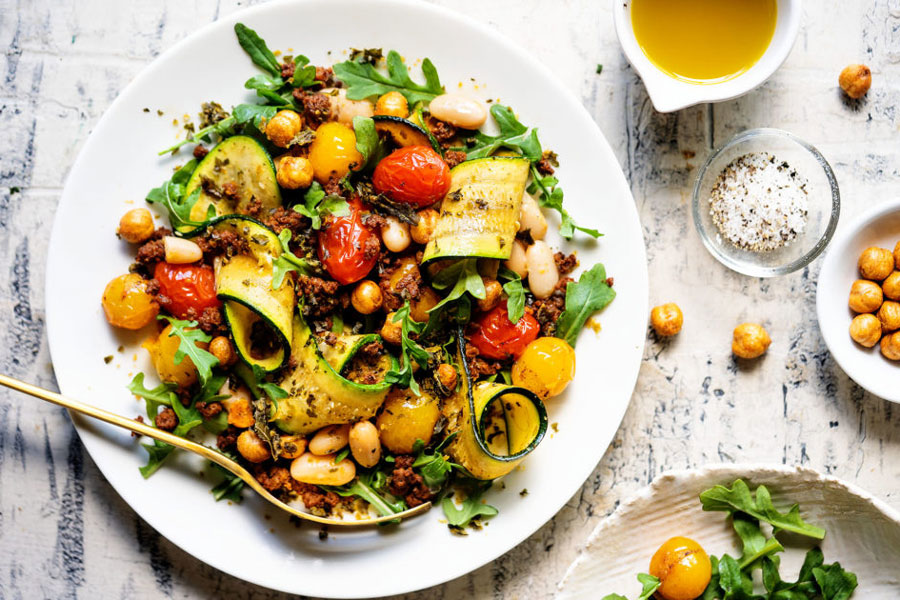 04 Jul

Prepare this Warm Bean and Mexican Chorizo Salad for the Summer

Recipe and picture courtesy of Bakers Royale.

Summertime brings in the heat, which is why we deserve something light to enjoy. Make sure to prep this delicious warm bean and chorizo salad. Be sure to replace the chorizo with our beef, pork, or chicken chorizo and San Luis brand. We want to thank the chefs from Bakers Royale for this recipe.
Total Time
25 Minutes
Yields
4 Servings
Ingredients
Dressing
⅓ cup of olive oil
2 tablespoons of honey
1 garlic clove, finely minced
2 tablespoons of Dijon mustard
Salad
4 oz. arugula
1 lb. of fresh Mexican chorizo
Crispy chicken peas
1 tablespoon of olive oil
2 zucchinis, thinly sliced
1 pint of cherry tomatoes
10 oz. of cannellini beans
We Ship our Mexican Chorizo Products Nationwide
We hope you enjoy creating this salad! We ship our chorizo products nationwide, so be sure to order chorizo online today. Send us a message online if you have any shipping questions. Tag us online enjoying our chorizo products on Instagram and Facebook. Be sure to use #bestchorizobrand and #chorizodesanmanuel.