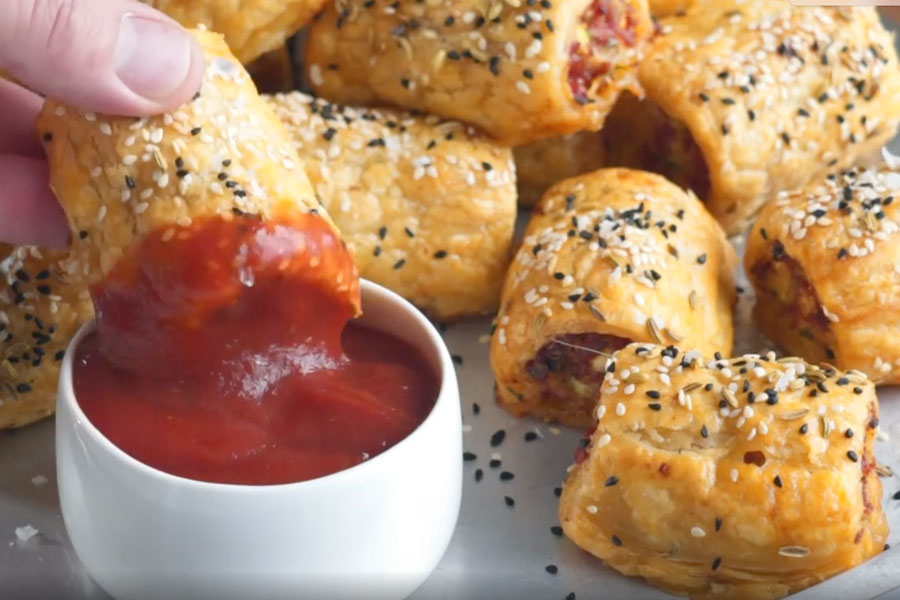 31 Oct

Batch of 4 Chicken and Mexican Chorizo Sausage Rolls Holiday Appetizer

Picture and photo courtesy of Delicious.com

Looking for wonderful recipes to try this holiday season? Make a batch or two of these tender Chicken and Mexican Chorizo rolls as an appetizer. Not only is this dish great for a holiday party, but these tender and flaky rolls are just the warm bite you want on a cold morning. Order chorizo online today, and try your hand at this dish. We want to say thank you to the chefs at Delicious.com for this recipe.
Preparation Time
5-6 Mins
Cooking Time
45 mins
Serves
4 Servings
Ingredients
*Use a cheese cloth if you have one.
Directions
Preheat oven to 390 °F and line 2 baking trays with baking paper.
Place the chorizo in a food processor until finely chopped. Place in a bowl with the chicken mince.
Grate the onion and zucchini onto a clean cheese cloth, then gather in the sides and squeeze out the excess liquid.

 

Add the vegetables to the chorizo mixture.

 

Add the rosemary and season with 1 ½ teaspoons of salt and freshly ground black pepper.
Divide chorizo mixture into 4 even portions.

 

Halve the pastry sheets.

 

Shape 1 portion of chorizo mixture into a ball along the edge of one pastry sheet.
Brush the opposite edge of the pastry sheet with egg wash.
Roll up pastry to enclose. Repeat for remaining pastry, chorizo, and egg.
Transfer sausage rolls, seam-side down, to a tray and place in freezer for 10 mins.
Using a kitchen string, unscented dental floss or a serrated knife, cut each sausage roll into 4 portions.

 

Brush with egg wash, then sprinkle with nigella seeds, sesame seeds, fennel seeds, and salt flakes.
Place on prepared trays and bake for 25-30 mins or until golden and cooked through.
Combine the harissa and ketchup, and serve sausage rolls with the sauce.
Order Chorizo Online
Check our original Mexican chorizo flavors and order online today. Chorizo De San Manuel has a variety of different flavored chorizos to choose with key flavor profiles:
Need Cooking Inspiration? Check Out the Recipes Chorizo De San Manuel Website!
Contact us if you have any questions regarding ordering chorizo online. Show us some of your culinary favorites on our Instagram and Facebook!