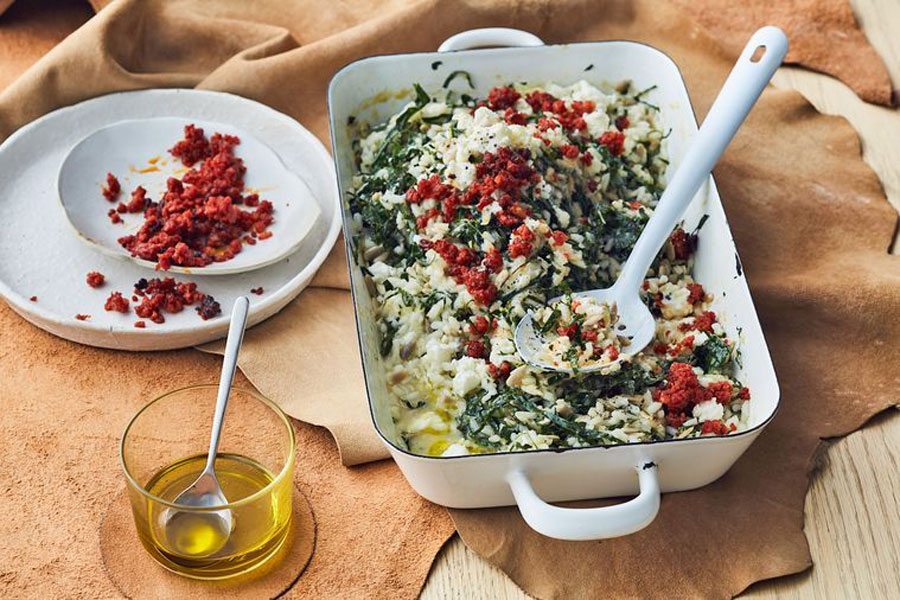 17 Oct

10-Step Baked Mexican Chorizo Risotto for Family Dinner!

Picture and photo courtesy of Delicious.com 

Try something gourmet for you and your family! This baked citrus chorizo risotto should be your next dish. Using our Mexican chorizo, you'll create a warm dinner with greens, hearty grains, and yummy pork, beef, or chicken chorizo! We want to thank the chefs delicious.com for this recipe. 
Preparation Time
10 Mins
Cooking Time
40 Mins
Serves
4 Servings
Ingredients
1 onion, finely chopped
4 cups (1L) chicken stock
1 ½ cups (315 g) arborio rice
1 cup (160 g) sunflower seeds
100 g unsalted butter, chopped
1 each lemon, grapefruit, and lime
½ bunch oregano leaves, finely chopped
1 cured chorizo, casing removed, flesh crumbled
1 bunch cavolo nero, (or regular kale) stalks removed, leaves shredded
50 g marinated goat's cheese feta (substitute cow's milk feta)
Directions
Preheat the oven to 180 C. Grease a baking tray and line with baking paper.

 

Scatter chorizo over the prepared tray.
Peel and segment lemon, grapefruit, and lime over a bowl, catching juices and reserving membranes. Squeeze each membrane over the bowl to collect all the juice, then discard squeezed skins.
Heat butter in a large flameproof baking dish over medium heat. Add onion and cook, stirring regularly, for 4 minutes or until softened.

 

Add rice and sunflower seeds, and cook, stirring constantly, for 2 minutes or until lightly toasted.

 

Add half the stock and bring to a gentle simmer, stirring constantly, for 4 minutes or until most of the liquid has been absorbed.

 

Add citrus segments, reserved juice, oregano, and remaining 2 cups (500 mL) stock, stirring to combine.

 

Transfer risotto to the center of the oven, placing the chorizo tray on a lower shelf. Bake risotto and chorizo halfway, for 20 minutes or until rice is just undercooked.

 

Stir through cavolo nero and bake for a further 5-10 minutes until most of the liquid is absorbed, cavolo nero is tender and chorizo is golden.

 

Stir through feta and scatter over chorizo to serve and enjoy!
Order Chorizo Online!
Order chorizo online, or purchase at your local grocery store only in Texas. Chorizo De San Manuel has a variety of different flavored chorizos to choose from such as:
Pork Chorizo has a unique and spicy flavor, with wonderful spices and juicy flavor.
Beef Chorizo is alternative choice, this particular chorizo has a savory yet succulent taste and gives the best melt-in-your-mouth flavor, with a nice garlic finish.
Chicken Chorizo is another popular choice, combined with chicken, spices, and is a leaner type, and is cooked the same way as pork chorizo.

 
Chorizo De San Luis contains just the right amount of fat, pork, and spice seasonings that adds tang to your recipe.

 
Need Some Cooking Ideas? Check Out Chorizo De San Manuel!
Try more Mexican chorizo recipes and mind-blowing cooking techniques online. Show us your culinary skills on Instagram and Facebook!