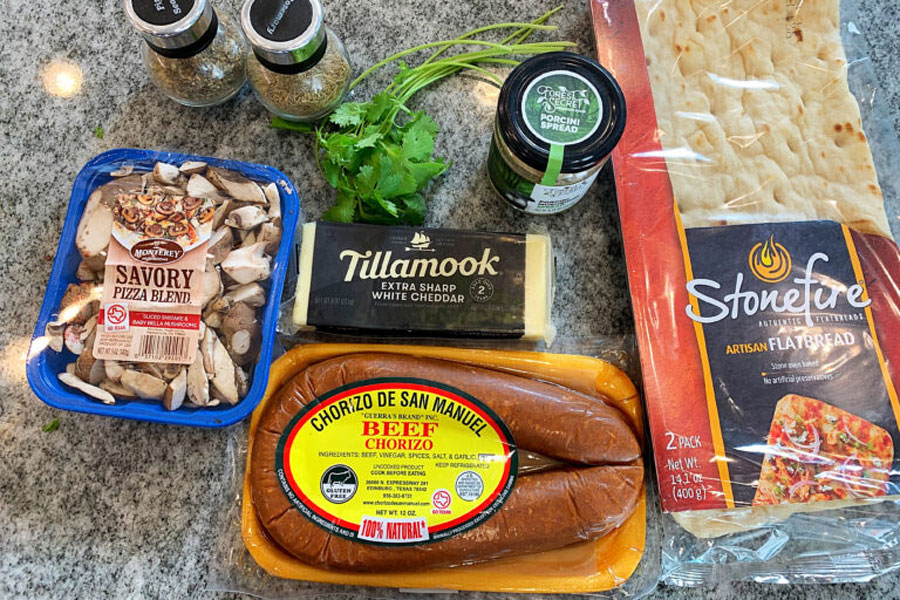 22 May Make Friday Night a Mushroom and Mexican Chorizo Pizza Night!
Photo and recipe courtesy of dastylishfoodie.com.
It's everyone's favorite comfort food but with a twist! We thank the creative chef Da Stylish Foodie for creating this yummy flatbread pizza alternative! Try this Mexican chorizo pizza recipe with all your favorites starting with the main ingredient, your go-to-choice Mexican chorizo!
Preparation Time
5 minutes
Cooking Time
10 minutes
Serves
3
Ingredients
● Olive oil
● Kosher salt
● Dry Rosemary
● Pizza Seasonings
● 12 oz Beef Chorizo
● Cilantro For Garnish
● 3 Garlic Cloves Minced
● Truff Sauce Drizzled on top
● StoneFire Artisan Flatbread®
● 1/4 Yellow Bell Pepper Diced
● 8 oz Block of Tillamook Cheese Grated
● 5 oz Savory Pizza Blend of Mushrooms
Directions
● Preheat the oven to 450 degrees.
● Mince the garlic and set aside.
● Dice the bell peppers and set aside.
● Grate the Tillamook cheese and set aside.
● Heat the skillet and the olive oil. Brown the chorizo links in the skillet on both sides. About 5 minutes. *If you prefer to remove the Mexican chorizo casing before browning, you can do that, also. It would be similar to ground beef.*
● Place on a paper towel to drain the excess grease.
● Use the same skillet and saute the bell peppers and the mushrooms for about three minutes.
● Season with salt, rosemary, and pizza seasoning.
● Add the garlic.
● Remove the casing from the sausage. Chop into nice size slices.
● Add the Porcini Mushroom Spread to the flatbread, white cheese, mushroom, bell pepper mixture, and top with the Mexican chorizo.
● Bake for 5 – 7 minutes or until the cheese is melted.
● Remove from the oven.
● Top the flatbread with cilantro.
● Drizzle with Truff Hot Sauce.
● Enjoy.
Get Creative in the Kitchen and Try Out this Mexican Chorizo Pizza!
Order chorizo online along with your favorite meat cuts! Then show your culinary creations online! We offer nationwide shipping so that you can enjoy Chorizo De San Manuel anywhere!