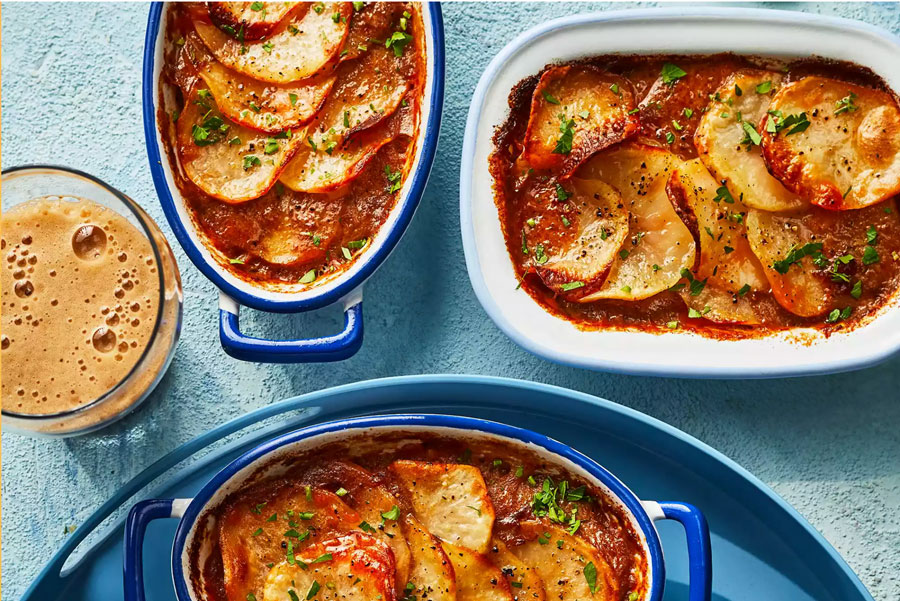 20 Sep

Try this Unique Take on Mexican Chorizo Pies with This Recipe!

Recipe and photo courtesy of FoodandWine.com

Want to create an outstanding presentable Mexican chorizo meal with your favorite comfort foods? Steak n' potatoes is getting a facelift with this recipe courtesy of FoodandWine.com of savory meat pies. Substitute with your favorite Mexican chorizo and ground beef.
Ingredients
2 cups of beef stock
½ teaspoon dried oregano
¾ teaspoons smoked paprikachorizo
6 tablespoons all-purpose flour
2 tablespoons of Dijon mustard
1 pound extra lean ground beef
2 teaspoons kosher salt, divided
1 medium carrot, finely chopped
½ teaspoon black pepper, divided
2 tablespoons of Worcestershire sauce
1 medium-sized yellow onion, finely chopped
Finely chopped fresh flat-leaf parsley, for garnish
1 (5 ½ ounce) fresh Mexican chorizo, casing removed
½ cup unsalted butter, divided, plus more for greasing dishes
1 pound, 4 ounces of medium-sized russet potatoes, peeled and thinly sliced
Directions
Preheat the oven to 450 F.

 

Grease 6 individual pie dishes with butter and set aside.
Melt ¼ cup butter in a large skillet over medium-high heat.

 

Add onion, carrot, 1 teaspoon salt, and 1/4 teaspoon pepper, and cook stirring often, until onion is soft but not browned, about 5 minutes.
Add ground beef and chorizo; cook, stirring often until meat is browned and cooked through, about 5 minutes.
Sprinkle flour over the mixture, and cook, stirring constantly, for about 2 minutes.
Stir in stock, Worcestershire sauce, paprika, and oregano; bring to boil over medium-high.
Reduce heat to low; simmer, stirring often, until flavors meld and vegetables soften, about 10 minutes.
Remove from heat; stir in mustard and ½ teaspoon of salt.
Spoon filling evenly into prepared dishes. Top evenly with sliced potatoes.
Sprinkle potatoes with remaining ½ teaspoon salt and remaining ½ teaspoon pepper.

 

Microwave the remaining ¼ cup of butter in a small bowl on high until melted, about 1 minute.
Bake until pies are golden brown, 25-35 minutes.
Remove from oven; garnish with parsley and enjoy!
Check Out Our Signature Chorizo Flavors!
Chorizo De San Manuel has a variety of different flavored chorizos to choose from that will change the flavor of this meal. Choose from:
Order Mexican Chorizo Online
For more hassle-free recipes and time-saving dinners, go and check out the Chorizo De San Manuel page! Order Mexican Chorizo online, and send us a message if you have any questions regarding your order. 
Show us some of your culinary favorites on our Instagram and Facebook!