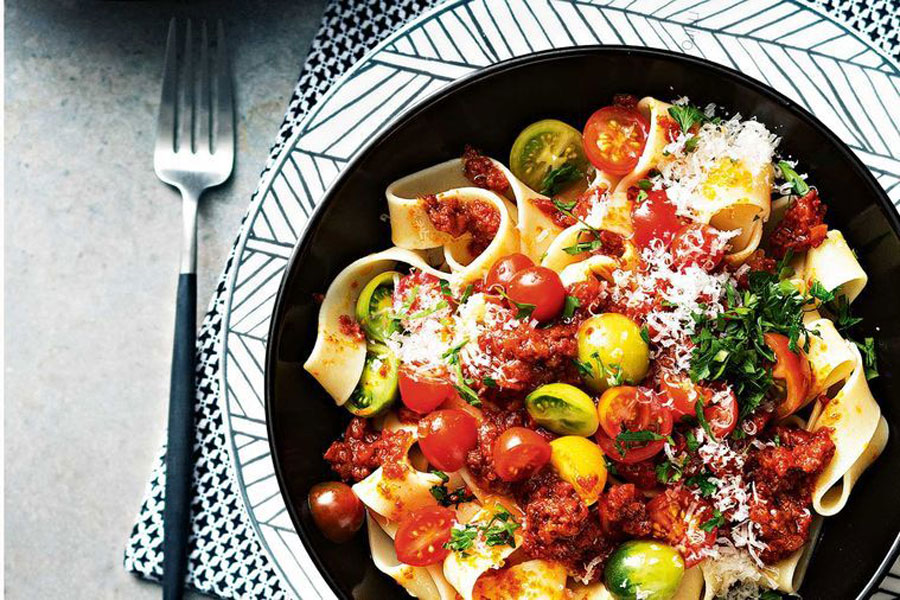 05 Oct

Create a Gourmet Mexican Chorizo and Bolognese Pasta

Recipe courtesy of Delicious.com

What's your favorite, Mexican or Italian food? With Chorizo De San Manuel's savory flavors you can combine the two with traditional pasta dishes with mouth-watering sauces. Then you need to try this chorizo bolognese recipe. We want to thank the creators at Delicious.com for this recipe.
Yields
4 Servings
Ingredients
2 tbsp thyme leaves
400 g bottle tomato sauce
500 g cherry tomatoes, halved
400 g pappardelle or other long pasta
1 tbsp extra virgin olive oil, plus extra to drizzle
3 x(125 g) chorizo, cases removed and chopped
Chopped flat-leaf parsley leaves and grated parmesan to serve
Directions
Place chorizo in food processor and pulse until nicely chopped.

 

Place in a cold frypan with oil over medium heat. When the chorizo starts to sizzle, cook for 3-4 minutes, tossing, until the fat has rendered
Add the thyme and toss, cooking for 1 minute until fragrant then add the pasta and cook for 6-8 minutes until reduced.

 

Meanwhile cook the pasta to packet instructions then drain, reserving ⅓ cup (80 ml) cooking liquid.
Add the pasta to the sauce with the reserved cooking liquid and toss to warm through. Remove from heat, top with tomatoes, parsley and parmesan.

 

Serve and enjoy!
Check Out Our Signature Chorizo Flavors!
Chorizo De San Manuel has a variety of savory Mexican chorizo to choose from such as the:
Tender beef chorizo
Lean yet juicy chicken chorizo

 

Signature flavorful pork chorizo
Order Chorizo Online
Order chorizo online today! For more inspirational recipes and mind-blowing techniques, go and check out the Chorizo De San Manuel page here!