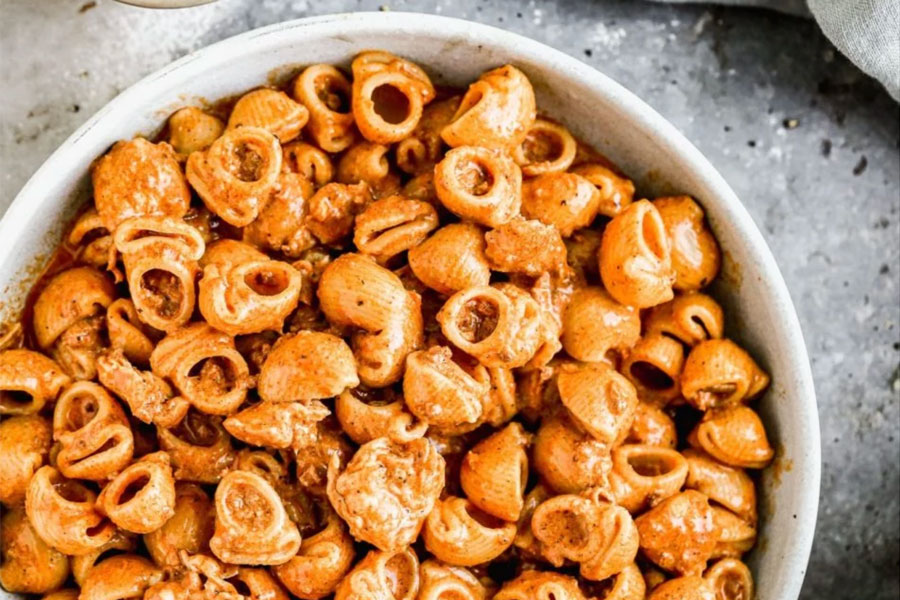 15 Nov Thanksgiving with a Twist: Spicy Mexican Chorizo Pasta
Photo and recipe courtesy of CookingforKeeps.com
One way to change the game for Thanksgiving this year is to diversify your sides! From going international cuisine, changing your cooking techniques, and adding to chorizo to your meals! The possibilities are endless, and we recommend this quick side of spicy Mexican chorizo pasta to your table. We'd like to thank Cooking for Keeps, for this cream-sauce-filled chorizo pasta! 
Prep Time
10 mins
Cook Time
30 mins
Servings
8
Ingredients
1/2 tsp oregano
1 tsp salt, divided
1 tbsp lemon juice
1 cup heavy cream
1/2 cup diced onion
3 large garlic cloves
1 lb shell bow pasta
1/2 tsp garlic powder
1/8 tsp black pepper
1/2 tsp onion powder
1 tsp smoked paprika
1/2 cup dry white wine
14 oz Mexican chorizo
1 tbsp olive oil, divided
1/2 cup parmesan cheese
1/2 cup pasta water or more
1 cup low-sodium chicken broth
14 oz chicken tenders, cut into bite-sized pieces (about 1-inch)
Directions
Bring a large pot of water to a boil and season with a generous amount of salt.
Add chicken to a large bowl. Drizzle with a teaspoon of olive oil and sprinkle with 3/4 teaspoon of each seasoning. Use your hands to coat the chicken. Set aside.
Heat a large cast iron skillet (we use a 12″) or a similar-sized skillet with high sides to medium-high heat. Add Mexican chorizo. Spread it out in the bottom of the pan and let it brown. 
Continue to brown until the chorizo is cooked through, it should take about 8-10 minutes.
When the chorizo has been fully cooked, use a slotted spoon to transfer the chorizo to a colander so the fat can drain. 
Add the marinated chicken to the skillet. Let the chicken brown and then flip it over. Remove from the pan and transfer to the same plate as the chorizo. 
Turn the heat down to medium and add two teaspoons of olive oil to the pan. Add the onions and saute soft, about 3-4 minutes. 
Add the garlic and cook another 1-2 minutes. 
Add in the white wine. Use a wooden spoon to scrape up all the bits at the bottom of the pan. 
Simmer for 1-2 minutes and then stir in the chicken stock, cream, and remaining 1/4 teaspoon salt. Bring to a boil and reduce to a simmer until the sauce has thickened 5-6 minutes.
When the sauce has thickened, drop the pasta into the boiling water. Cook it about 1-2 minutes before al dente. 
While the pasta cooks, add the chorizo and chicken back to the pan with the sauce. Toss. Season to taste with salt and pepper.
Drain pasta in a colander and then transfer to the sauce. Add 1/2 cup of the pasta water, parmesan cheese, and lemon juice to the pasta, sauce, and meat. Season to taste with salt and pepper.
Get More Mexican Chorizo Recipe Inspiration
Make your Thanksgiving meal memorable and order prime steaks, Mexican chorizo, and more during the holiday season. Check out more recipes on the Chorizo De San Manuel page online!