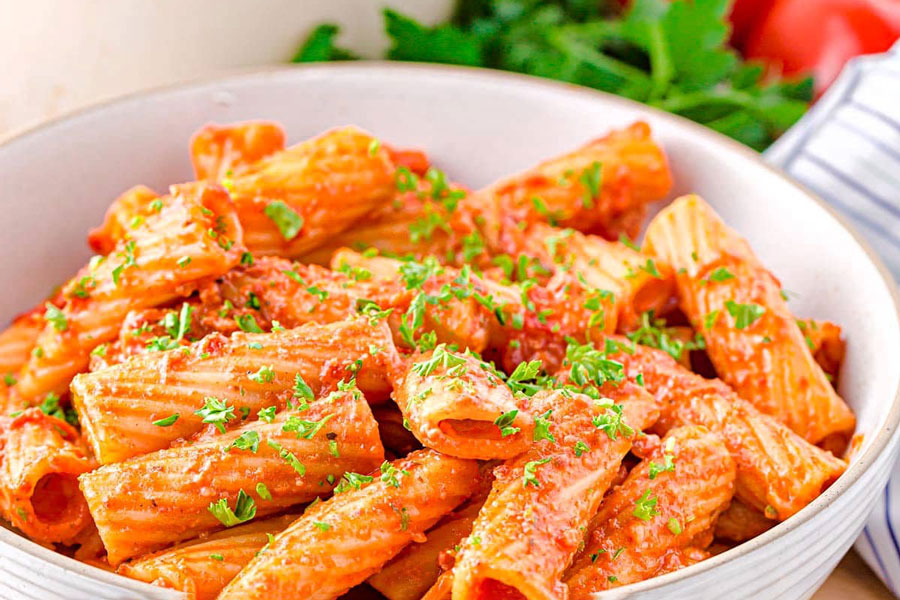 26 Apr Try This 20-Minute Mexican Chorizo Pasta!
Photo and recipe courtesy of Mom on Timeout.com
This easy Mexican chorizo pasta recipe is a simple and excellent one-pot pasta ready to go in 30 minutes. This chorizo-flavored pasta is full of flavor and can easily be a great vegetarian dish if you omit the chorizo from the recipe! We want to thank MomonTimeout.com for this inspiring family-friendly recipe.
Preparation Time
5 mins
Cooking Time
20 mins
Serves
6
Ingredients 
1 teaspoon salt
11 ounces of pork chorizo
15 ounces of tomato sauce
12 ounces rigatoni pasta
¾ teaspoon garlic powder
3 tablespoons tomato paste
1 teaspoon Italian seasoning
¼ cup shredded parmesan cheese
2 cups low-sodium chicken broth or stock
14.5 ounces of fire-roasted diced tomatoes, undrained
2 cups of water or use part chicken or beef broth or stock
Directions
Cook the Mexican chorizo in a large pot or Dutch oven over medium-high heat until the meat starts to brown and thicken slightly.
Stir in the tomato sauce, fire-roasted tomatoes, tomato paste, salt, Italian seasoning, and garlic powder.
Add the rigatoni pasta and pour in the chicken broth and water, making sure the liquid covers all the pasta slightly, and then bring to a boil.
Decrease to a simmer, cover, and let cook for 12 to 15 minutes or until the pasta is cooked al dente or to your desired softness.
Remove from heat and top with parmesan cheese; stir to combine.
Serve garnished with parsley, basil, red pepper flakes, and more parmesan cheese (optional).
Try this Mexican Chorizo Pasta and Check out More Recipe Inspiration
If you want more pasta dinner recipes, consider this one for your next dinner or lunch for your family! Check out more recipes online!