18 Jan Make a Classic Mexican Chorizo Pambazo
Recipe courtesy of MuyDelish.com
Have you ever made Mexican Chorizo Pambazo before? If not, this Mexican inspired dish is just what your family needs. It's rich in flavor and quick to make, plus it is made better with our Mexican Chorizo. We want to thank the chefs at MuyDelish for this inspiration.
Preparation Time
15 mins
Cooking Time
20 mins
Serves
4
Ingredients 
¼ large onion
4 telera breads
½ teaspoon salt
½ cup Mexican crema
Mexican pickled onions
½ teaspoon black pepper
1 large garlic clove peeled
2 tablespoons vegetable oil
9 ounces (250g) beef or soy chorizo
1 cup crumbled cotija or queso fresco
5-6 large guajilo peppers, seeds removed
2 cups shredded lettuce like romaine or iceberg
3 large potatoes or 2 large russet potatoes, peeled and cut into cubes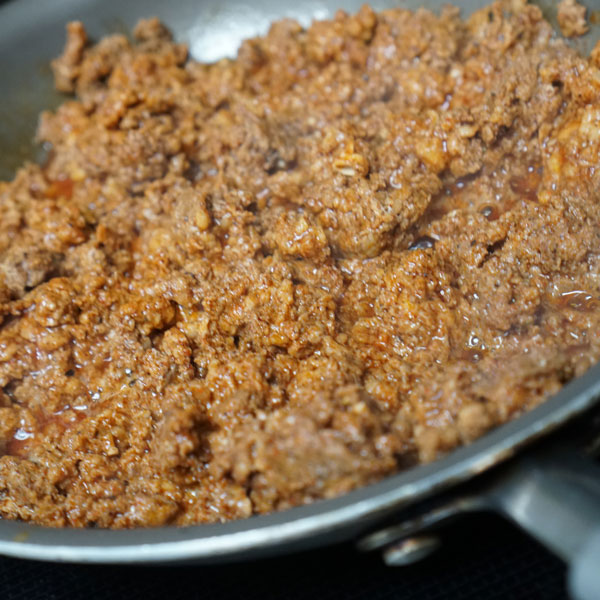 Directions
In a small to medium pot, add the ¼ large onion, 1 garlic clove and ½ teaspoon of salt and pepper. Add enough water to cover the onions.
Bring to a boil then lower the heat to medium. Cook for 5 minutes.
Add the guajillo chiles making sure they're completely under the water. Turn off the heat and let them sit for 10 minutes or until the chiles are soft and pliable.
In a blender or food processor, add the chile guajillos, onion, and garlic plus 1 ½ cup of chili water. 
Blend until smooth and transfer to a bowl.
Let the chiles set. 
Cook the cubed potatoes in a small pot with enough water to cover the potatoes. Cook for 15 minutes on medium-high heat or until soft. Drain and set aside.
In a large skillet, add our Mexican chorizo and cook over medium-high heat for 10 minutes.
Add the potatoes to the cooked chorizo and mix well.
On a large skillet or comal, add two tablespoons of oil. Heat over medium heat.
Brush the telera bread with salsa to cover the outside of the bread.
Fry the bread on the skillet or comal until lightly crispy on the outside. 
Open the telera bread and fill it with the chorizo and potato mixture, lettuce, crema, crumbled queso, pickles onion, and salsa.
Other Products with Chorizo De San Manuel!
When it comes to our signature Mexican chorizo, we use the best meat and spices. You can also enjoy our well-crafted: 
Buy Mexican Chorizo Online
All of our products are ready to go and ready to ship anywhere for a reasonable price! Check out more about Chorizo De San Manuel Mexican chorizo online!