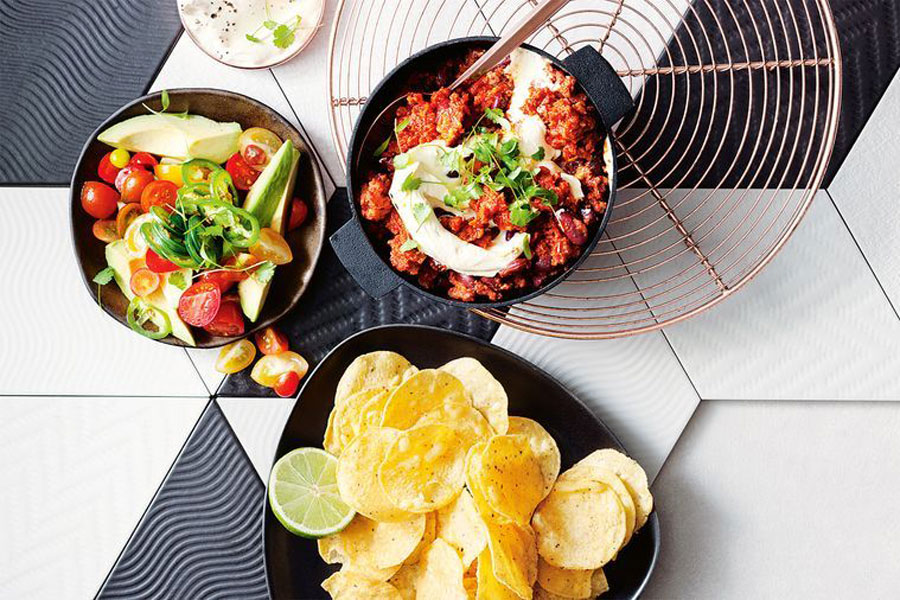 05 Oct Make Family Night Festive with a Mexican Chorizo Nachos
Photo and recipe courtesy of delish.com 
Mexican Chorizo Nachos are very popular to serve tons of guests, for a movie or game night, for your kids' sleepovers, or for parties. You can make clean-up super easy, by preparing the Mexican chorizo in this recipe in advance!  
Not only can you add your favorite nacho toppings to the grocery list, but also choose from our four signature flavors – Beef Chorizo, Pork Chorizo, Chicken Chorizo, and San Luis Chorizo.  We would like to thank the talented creators at delish.com for this recipe.
Preparation Time
4 mins
Cooking Time
20 mins
Servings
5
Ingredients
1 tsp Tabasco
1⁄2 tsp Chilli flakes
1 Onion, chopped
1 tsp Ground cumin
1 tsp Smoked paprika
2 Garlic cloves, crushed
2 tbs White wine vinegar
2 tbs Extra virgin olive oil
1 Large can of red kidney beans
4 raw Mexican chorizo links
400g can chopped tomatoes
1 jalapeño, thinly sliced
500g Mixed tomatoes, chopped
2 Hass avocados, cut into wedges
Corn chips, sour cream, micro coriander (or coriander) and  lime wedges to serve
Directions
Squeeze the meat from the chorizo casings. 
Add to a cold frypan, then place over medium heat. 
When it begins to sizzle, and the fat has started to render, cook for 2-3 minutes.
Add the onion and cook for a further 2 minutes or until slightly softened. 
Add the garlic and spices and cook for a further 5 minutes, then add the tomatoes and 1 cup (250ml) water.
Simmer for 10 minutes until reduced. Stir through the beans to warm through.
To make the salsa, place the avocado, tomatoes, and jalapeño in a bowl. 
Combine the vinegar, oil, and Tabasco, then pour over the salsa.
Top chorizo mixture with sour cream and micro coriander. Serve with corn chips and lime wedges.
Order Chorizo Online and Try These Mexican Chorizo Nachos
Check out more recipes online! You can shop our prime beef products, chorizo, steaks, and more now online! Remember to reach out to us if you have any questions regarding nationwide shipping.