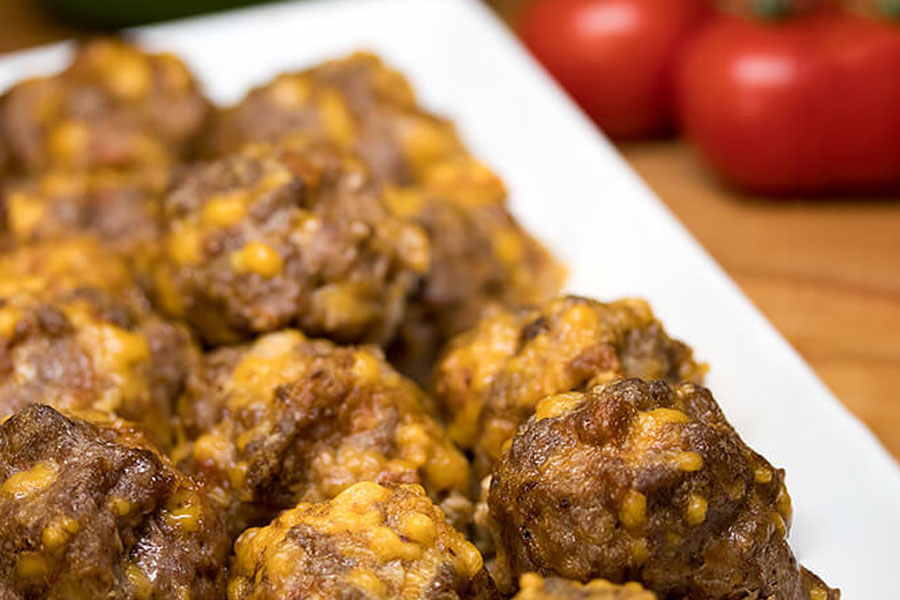 03 May

Say Yes to 9-Ingredient Mexican Chorizo Meatballs

Photo and recipe courtesy of Ruled.me

Check out this recipe for your next family meal, and see what makes this recipe so divine! We want to thank the chef at Ruled.me inspired for this Mexican chorizo meatballs recipe.

*Supplement this recipe with any of our savory Mexican chorizo – pork chorizo, beef chorizo, chicken chorizo, San Luis chorizo
Preparation Time
15 mins
Cooking Time
35 mins
Serves
6
Ingredients 
● 2 large eggs
● 1 teaspoon cumin
● 1 cup tomato sauce
● 1 cup cheddar cheese
● 1 teaspoon kosher salt
● 1 teaspoon chili powder
● 1 ½ pounds of ground beef
● ⅓ cup pork rinds, crushed
● 1 ½ links of our Mexican Chorizo
Directions
● Preheat oven to 350 °F.
● Break our Mexican chorizo into small pieces to mix well with the ground beef.
● Add your ground beef, pork rinds, spices, cheese, and eggs to the sausage.
● Mix everything well until you can form meatballs.
● Roll your meatballs into circles and place them in a foiled baking tray.
● Bake in the oven for 30-35 minutes or until meatballs are cooked.
● Spoon tomato sauce over meatballs and serve.
Try Out this Mexican chorizo meatballs Recipe!
This unique Mexican chorizo meatballs recipe uses chorizo and ground beef for an enhanced and fantastic flavor that everyone will love! Please show us some of your culinary favorites on our Instagram and Facebook!