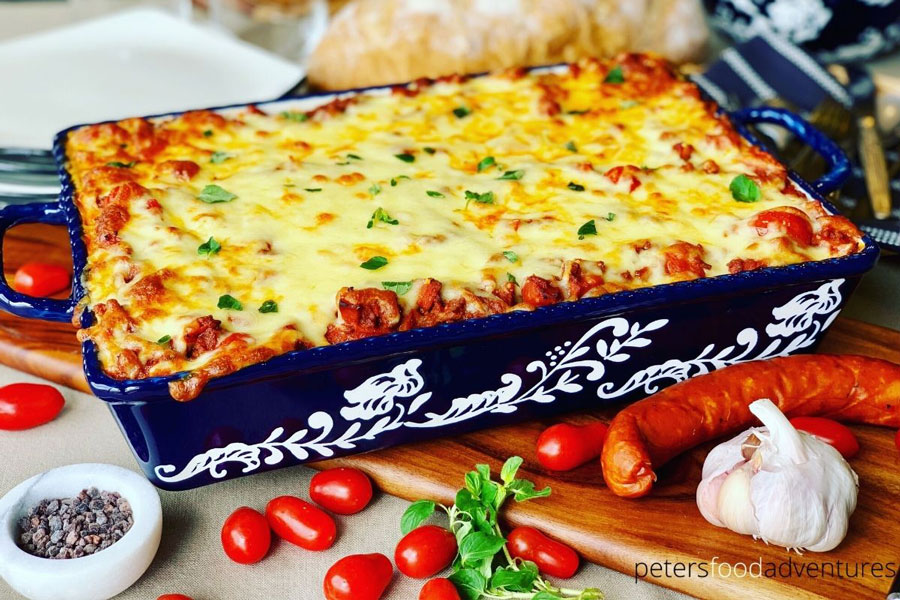 25 Jan

Simple 25 Minute Family-Sized Mexican Chorizo Lasagna

Photo and recipe courtesy of PetersFoodAdventures.com

Need a unique recipe with a twist that will wow your family at the dinner table? Try this Mexican chorizo lasagna recipe layered with ricotta, parmesan, and of course savory Mexican chorizo! Your family will certainly love this special dinner recipe! We want to thank the creative chefs at Peters Food Adventures for this Mexican chorizo recipe.
Preparation Time
45 mins
Cooking Time
25 mins
Serves
8
Ingredients
1 tablespoon sugar
4 garlic cloves minced
2 cups grated mozzarella
1 2 lbs/1 kg ricotta cheese
2 lbs/1kg lean ground beef
1 tablespoon salt and pepper
2 cans (14oz/400g) tomatoes
Half cup of fresh oregano leaves
2 cups grated parmesan cheese
12 oz/375 g fresh lasagna sheets
2 thinly sliced chili peppers (optional)
25 oz/700 g jar of passata (Italian pureed tomatoes)
1 lb of any Chorizo De San Manuel Mexican Chorizo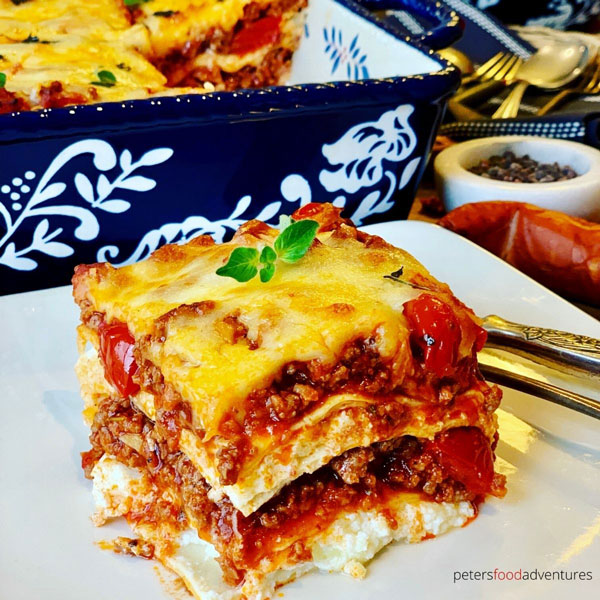 Directions
Carefully remove the cases around our Mexican chorizo.

 

Dice the Mexican chorizo into small pieces.

Cook the chorizo and lean ground beef in a large heavy-bottomed saucepan over medium heat.

 

Fry for 10 minutes until the beef is thoroughly cooked. Do not add oil to the saucepan, as the chorizo will release oil. Drain any excess oil.

Add the garlic, chili peppers, and fresh oregano leaves and cook for 2-3 minutes. Save some oregano to garnish the lasagna before serving

To complete the meat sauce, add the canned tomatoes, passata, sugar, salt, and pepper.

 

Reduce heat, and simmer for 10 minutes or until the liquids start reducing.

Preheat the oven to 180

∞

F.

Mix ricotta and the shaved parmesan cheese in a bowl

Use a 13×9-inch baking dish to build your lasagna.

 

Start by spreading 1 cup of your meat sauce across the base of the baking dish. Top with a layer of fresh lasagna sheets

Spoon half of the ricotta mixture and spread evenly. Add another layer of lasagna sheets

Spoon half of the meat mixture and cover with another layer.

 

Repeat with another layer of ricotta and pasta, then the meat again.

Sprinkle with grated mozzarella and bake in the oven for 25 minutes. Garnish with fresh oregano leaves. Allow lasagna to rest for 10 minutes before serving.

 
Check out the full recipe here! 
Try this Mexican Chorizo Lasagna Recipe and Chorizo Products
Shop our prime steaks, Mexican chorizo and more online! We also sell crafted sausages, ground beef, and signature prime beef products. Contact us online if you have any questions regarding our nationwide shipping.