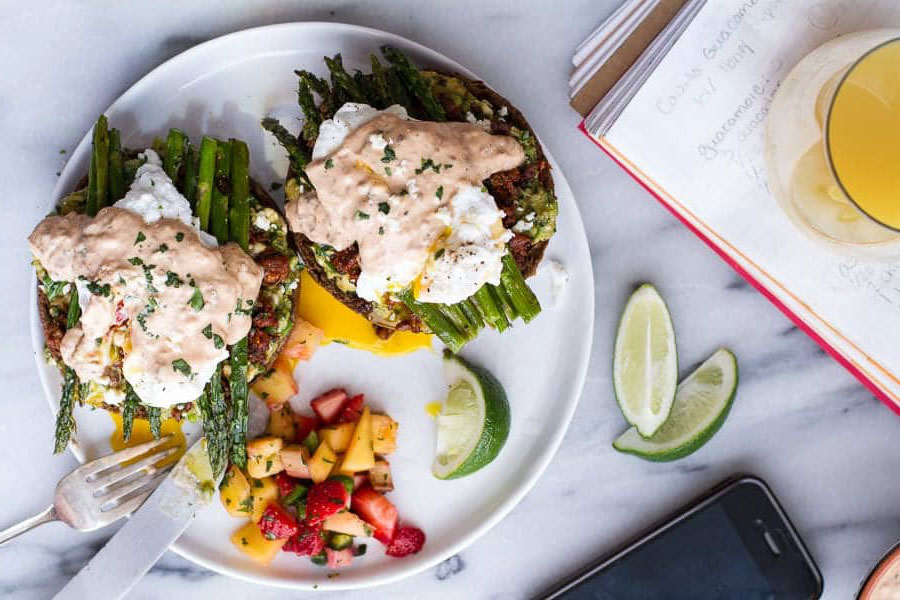 28 Jun

Make a Classic Mexican Chorizo Eggs Benedict

Photo and recipe courtesy of halfbakedharvest.com

Whether you are a brunch fanatic or breakfast guru, your morning eggs need a makeover. Try this Cotija Guacamole and Mexican Chorizo Eggs Benedict with Honey Chipotle Lime Sauce! Not only is it perfect for the summer, but it has one of the best ingredients. Our Mexican chorizo! We want to thank the creators at halfbakedharvest.com for this recipe inspiration.

Substitute with your favorite Chorizo De San Manuel Mexican chorizo – beef chorizo, pork chorizo, chicken chorizo and San Luis chorizo.
Preparation Time
20 minutes
Cooking Time
25 minutes
Serves
8
Ingredients
Salt and pepper
6-8 eggs poached
1 tablespoon olive oil
½ pound ground cooked chorizo
1 bunch asparagus, ends trimmed
3-4 whole pumpernickel or whole wheat bagels
HONEY CHIPOTLE LIME SAUCE
1 lime
1 tablespoon honey
1/2 cup Greek yogurt
2 in Chipotle chiles adobo
FRUIT SALSA
1 lime juice
2 stalks of rhubarb
½ cup strawberries
½ cup fresh mango
½ cup fresh pineapple
1 jalapeño, seeded and diced
¼ cup fresh cilantro, chopped
COTIJA GUACAMOLE
1 juice of lime
3 ripe avocados
¼ teaspoon salt
½ teaspoon cumin
¼ teaspoon pepper
3-4 ounces cotija cheese
¼ cup sun-dried tomatoes
¼ cup green onions, chopped

 

¼ cup fresh cilantro, chopped
1 jalapeño, seeded and diced
Directions
Preheat the oven to 400

∞

F degrees.
Place the asparagus in a roasting pan or on a baking sheet and toss with olive oil, salt, and pepper.

 

Add chopped rhubarb (if using) and to another pan and toss with 1 teaspoon of olive oil.
Roast in the preheated oven for 15-25 minutes or until tender and crisp. The rhubarb will only take 10-15 minutes.

 

Remove from the oven and set aside.
Meanwhile, make the honey chipotle lime sauce by mixing together the Greek yogurt, chipotle chiles + 2 tablespoons adobo sauce, lime juice, honey, salt, and pepper.

 

Taste and adjust honey and salt to your liking. Place in the fridge until ready to use.
For the fruit salsa, combine the roasted rhubarb (if desired), strawberries, mango, pineapple, jalapeño, cilantro, lime juice, and a pinch of salt in a bowl. Mix well and refrigerate until ready to use.
To prepare the guacamole, mash the avocados in a medium-sized bowl, leaving them as chunky or smooth as you prefer.
Add sun-dried tomatoes, green onions, cilantro, jalapeño, lime juice, cumin, salt, pepper, and fold in the cotija cheese. In a medium skillet over high heat, brown the guacamole mixture. Poach the eggs separately.
To assemble, spread the guacamole on bagel halves, then top with chorizo and warm asparagus. Place the poached eggs on top and drizzle with the honey-chipotle sauce. Serve the fruit salsa on the side.
Try this Mexican Chorizo Eggs Benedict and Order Chorizo Online
Looking for more flavors to try out for your recipes? Order Chorizo online, and try one of these Mexican chorizo recipes! Tag us in your culinary creations on TikTok, Instagram, and Facebook!