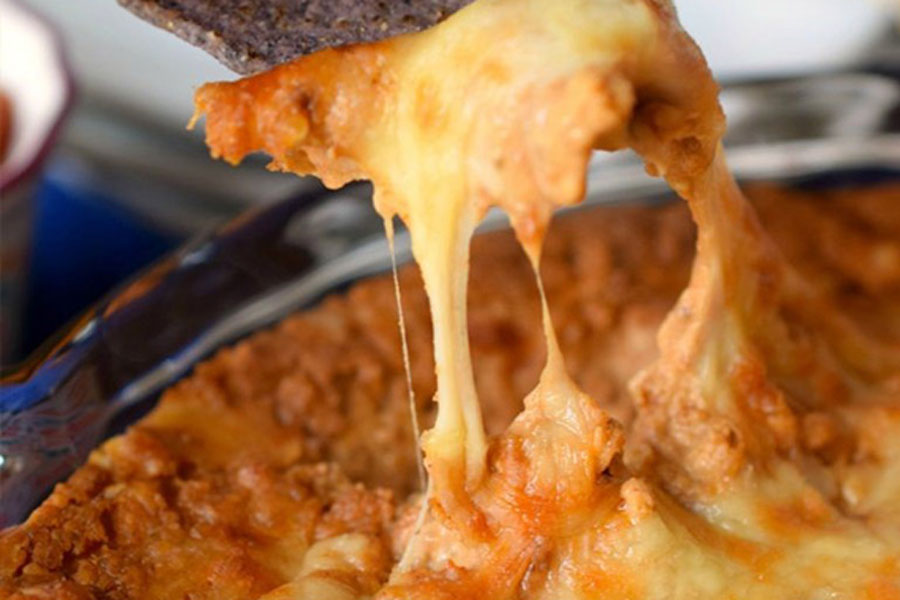 14 Jun

How to Create a Refried Bean and Mexican Chorizo Dip

Photo and recipe courtesy of Missionsfoods.com.

Looking for new and delicious ways to use your chorizo? Don't hesitate, and check out this fantastic idea on Mexican chorizo dip made with Chorizo de San Manuel!  We want to thank the creative chefs at Missionfoods.com for this recipe idea!

Substitute with your favorite Chorizo De San Manuel Mexican chorizo – beef chorizo, pork chorizo, chicken chorizo and San Luis chorizo.
Prep time
10 minutes
Cooking time
25 minutes
Serves
8-10
Ingredients
¼ cup sour cream
1 tsp ground cumin
16 oz can refried beans
8 oz cream cheese, softened
1 Bag or organic blue tortilla chips
1 cup queso chihuahua or quesadilla cheese, shredded
8 oz of Mexican chorizo, crumbled, cooked, and drained
Directions
Preheat oven to 350°F degrees.

 

Cook crumbled chorizo sausage in a non-stick skillet over medium-high heat until fully cooked.
Drain the Mexican chorizo and set aside.
In a bowl combine refried beans, cream cheese, sour cream & cumin.

 

Beat together using an electric mixer until well blended.
Stir in crumbled Mexican chorizo and spoon mixture into baking dish.

 

Sprinkle with shredded queso Quesadilla cheese.
Bake for 25 minutes or until cheese has browned.
Order Chorizo Online
 Our products are ready to go and ready to ship anywhere for a reasonable price! When it comes to our signature chorizo, we also sell a variety of products that include:
Signature recipe pork chorizo
Savory and tender Beef chorizo
Lean and juicy Chicken chorizo
Classical spicy San Luis chorizo
Try Out this Mexican Chorizo Dip
Looking for more flavors to try out for your recipes? Try our signature flavors! Our products are ready to go and ready to ship anywhere! Contact us with any questions regarding shipping.