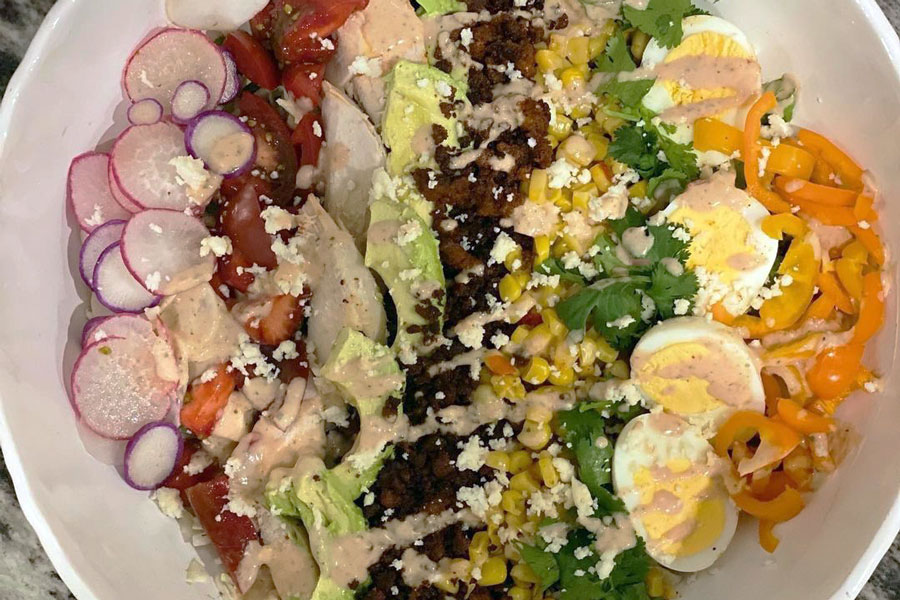 02 Aug

Guilt-Free Mexican Chorizo Cobb Salad

Recipe and photos courtesy of Lori Stover on Instagram.

If you're being mindful of your weight and are looking for a light salad with plenty of flavors, then this recipe for Mexican chorizo cobb salad is what you need! It comes to us from Lori Stover on Instagram! We'll be substituting in our pork chorizo, but our chicken chorizo can also be used.
Preparation Time
10 minutes
Cooking Time
15 minutes
Yields
2 servings
Ingredients
12 oz. of our chorizo
2 hardboiled eggs
2 cups of cooked, shredded chicken (grilled or rotisserie)
1 cup of light mayonnaise
1 ranch seasoning packet
1 cup of Cotija cheese
1 can of corn
3 teaspoons of Tajin Classic eloté seasoning
1 sliced mini sweet pepper
½ a cup of chopped cilantro
1 diced tomato
1 sliced avocado
1 sliced radish
1 tortilla cut into strips
1 cup of red salsa
1 bottle of salsa-flavored ranch dressing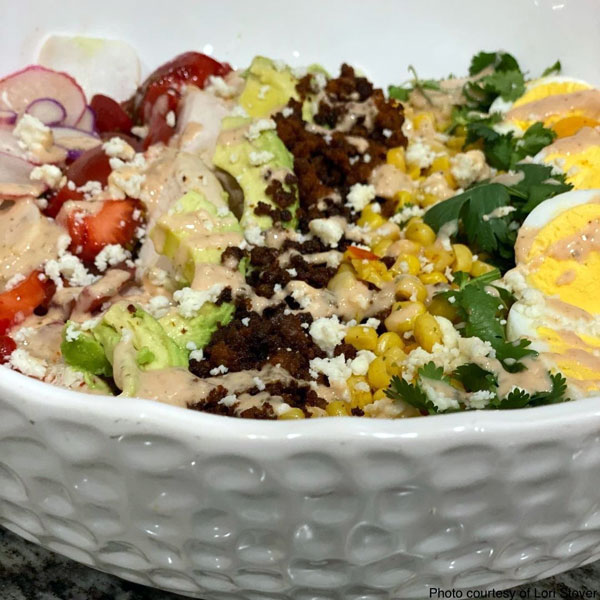 Directions
In a small pan, cook the chorizo over medium heat for seven to 10 minutes.
When done, transfer it to a paper towel-lined plate to drain any excess grease.
Add the corn to a microwave-safe bowl and set for two minutes.
Remove and stir in the eloté seasoning.
In a small bowl, combine the light mayonnaise, ranch seasoning packet, and red salsa.
Add the chorizo in a line in the middle of the bowl.
Add the chicken, boiled eggs, and veggies in straight-line layers.
Drizzle the salsa ranch and top with Cotija cheese.
Serve with the tortilla strips on the side and enjoy!
Try our Delicious Mexican Chorizo
Be sure to check out our other Mexican chorizo recipes that feature our entire line of chorizo brands. You can also buy chorizo online and have it delivered right to your door with our nationwide shipping! Contact us for more info about our products!