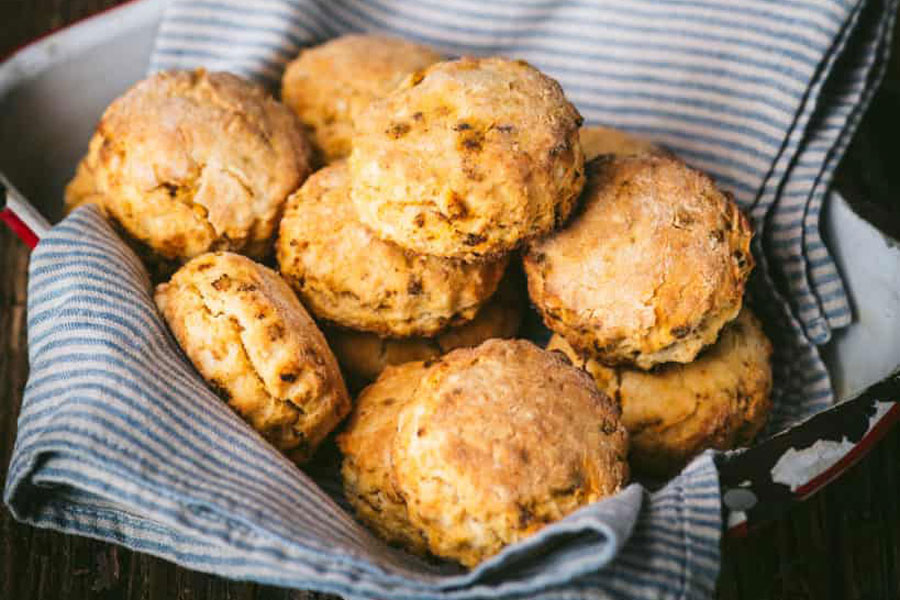 15 Sep Try this Mexican Chorizo Biscuits Recipe with Chef Melissa Guerra
Start your mornings with this mouth-watering recipe! We want to thank Chef Melissa Guerra of Cooking with Kitchen Wrangler who shared her favorite ways to enjoy Mexican chorizo biscuits as well as find different combinations to appease your appetite! 
Ingredients
1 tsp salt (4g)
Extra butter 
2 tsp sugar (8g)
4 oz of softened butter 115g)
1 tbsp of baking powder (12g)
3 oz chorizo (of your choice)
1 cup buttermilk (115g), plus a little extra
2.5 cups all-purpose flour (312g), plus a little extra
Directions
Remove casing from the chorizo. Place chorizo in a skillet and brown for 7-8 minutes. Remove from heat and set aside to cool.
Heat your oven to 400 F and line a baking sheet with parchment paper. 
Sift the flour, baking powder, sugar, and salt into a large mixing bowl. 
Using a pastry stirrup, cut the softened butter into the flour until the mixture resembles a coarse meal.
Add 1 cup of buttermilk to the mixture, using the pastry stirrup to mix. Add small amounts of the remaining buttermilk or flour if needed for a soft but not sticky dough. 
Fold in the cooked chorizo. Use your hands to lightly knead into biscuit dough for about 30 seconds.
Lightly flour a wooden board and turn the dough out onto the board. Using your hands, pat the dough into a circle to a 1.5" (3.8 cm) thickness. 
Cut the biscuits using a 2.5" (6.3 cm) biscuit cutter and place them on the baking sheet lined with parchment paper. 
Bake for 20-25 minutes until golden brown. Remove from the oven and brush the tops of the biscuits with butter. Cool on a wire cooling rack before serving.
Serve and Enjoy!
Check Out Our Signature Chorizo Flavors!
Chorizo De San Manuel, we craft a variety of specialty meat cuts and a variety of different flavored chorizos to choose from:
Check out More Mexican Chorizo Recipes!
For more hassle-free recipes and time-saving dinners, go and check out the Chorizo De San Manuel page!
Show us some of your culinary favorites on our Instagram and Facebook! 
Order Chorizo Online Today
The holidays are coming up, and what better gift than our versatile Mexican chorizo to treat your guests. Purchase online today!