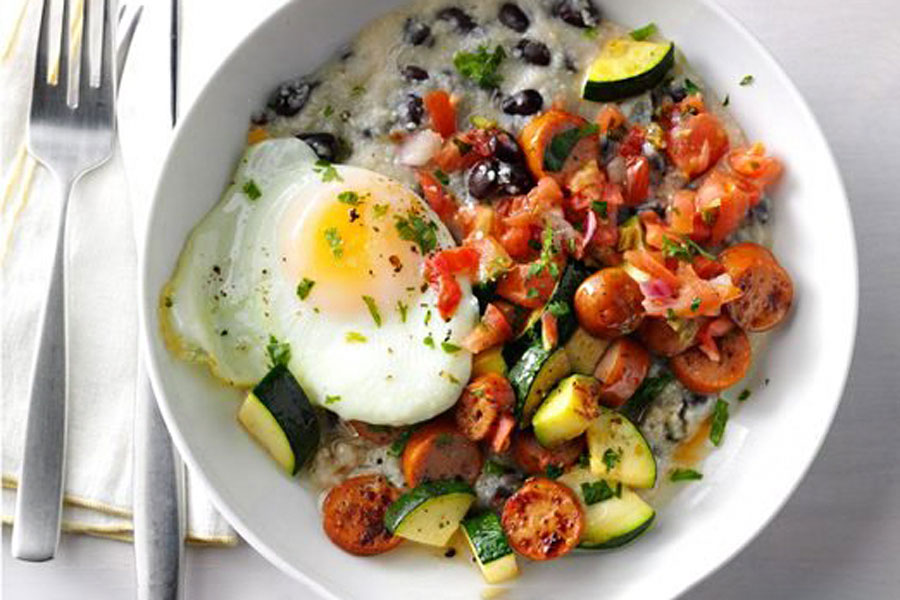 21 Dec

Start Your Day with a Hearty Mexican Chorizo and Grits Breakfast Bowl!

Recipe and picture courtesy of Taste of Home.

If you want to start the day right, cook up this hearty chorizo and grits breakfast bowl! Use our jalapeño and cheese sausages and cilantro sausages for this recipe and feel free to garnish your breakfast bowl with our Mexican chorizo for an extra kick of flavor. We would like to give a big thanks for this recipe from the talented chefs at Taste of Home.
Preparation Time
30 Minutes
Yields
6 servings
Ingredients
6 large eggs
3 cups of water
2 teaspoons of olive oil
1 large zucchini, chopped
¾ cup of quick-cooking grits
½ cup of shredded cheddar cheese
1 can (15 ounces) black beans, rinsed and drained
1 package (12 ounces) of fully cooked and sliced jalapeño and cheese sausage
Optional: Pico de gallo and chopped fresh cilantro or our Mexican chorizo.
Directions
In a large skillet, heat olive oil over medium heat.
Add sausage, cook and stir until lightly browned or about 2 to 3 minutes.
Add zucchini, cook and stir until tender for an additional 4 to 5 minutes.
Remove both from pan and keep warm.
In a large saucepan, bring water to a boil.
Slowly stir in grits.
Reduce heat to medium-low and cook, covered, until grits have thickened. Stir occasionally for about 5 minutes.
Stir in beans and cheese until blended.
Remove from heat.
Wipe the skillet clean, coat with cooking spray and place over medium heat.
In batches, break 1 egg at a time into the pan.
Immediately reduce heat to low and cook until whites are completely set and yolks begin to thicken but are not hard, or for about 5 minutes.
To serve, divide grits mixture among 6 bowls.
Top with chorizo mixture and eggs.
If desired, add pico de gallo and cilantro.
Buy Mexican Chorizo!
Check out all of our other chorizo shop  and chorizo recipes featuring the best chorizo brand  and our prime beef products. Make sure to tag us on Instagram and Facebook! Send us a message online if you have any other questions.