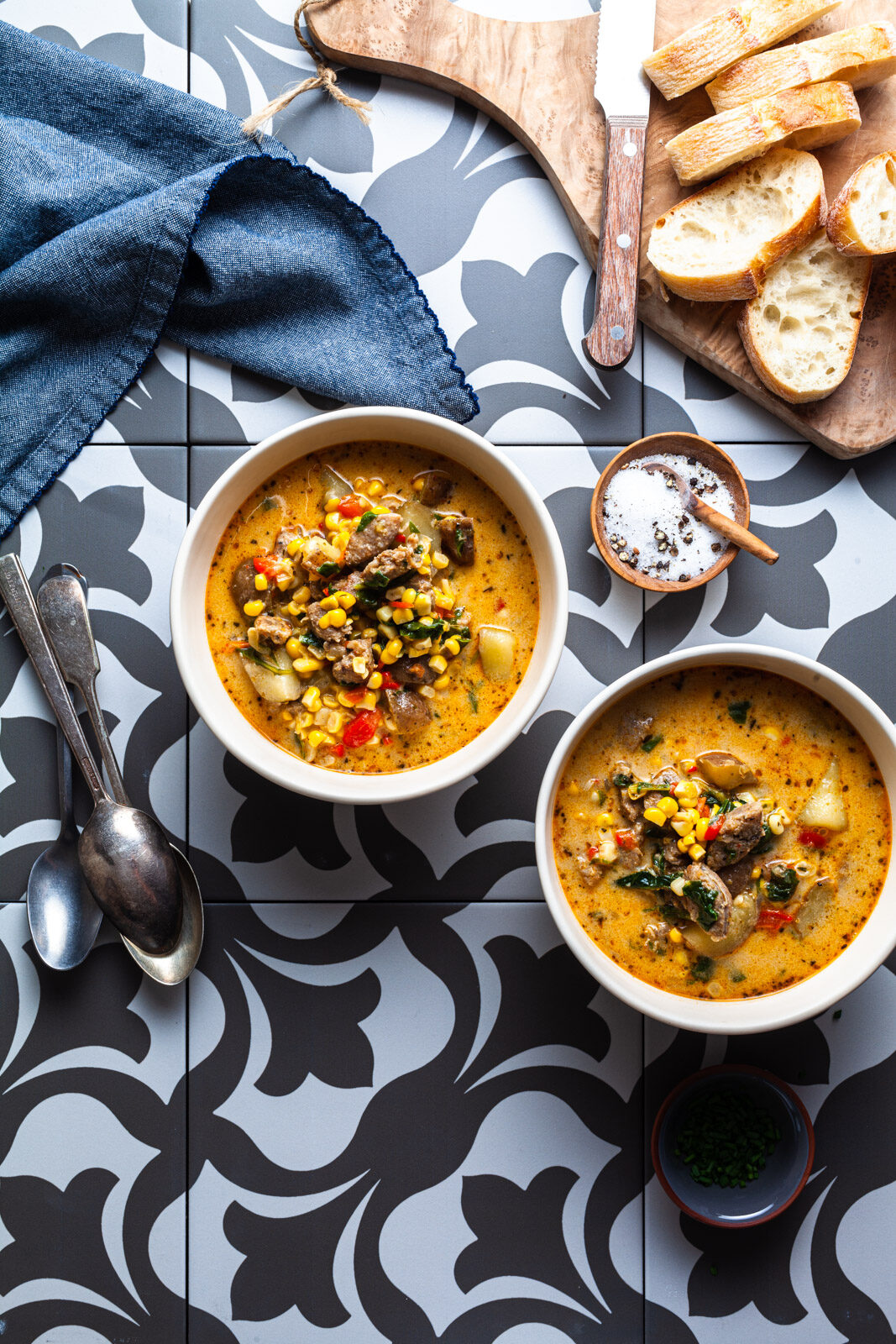 20 Jan Indulge in a Warm Bowl of Mexican Chorizo and Corn
Recipe and picture courtesy of Taste of Home.
Take a moment this winter to warm up the family with a bowl of Mexican chorizo and corn! Be sure to use our pork mexican chorizo or jalapeño and cheese sausage for this recipe!  We would like to thank the chefs at Taste of Home for this savory recipe.
Preparation
15 minutes
Cook Time
35 minutes
Yield
10 servings
Ingredients
½ teaspoon of salt
½ cup of sour cream
½ teaspoon of pepper
3 garlic cloves, minced
1 large onion, chopped
⅓ cup of all-purpose flour
1 teaspoon of ground cumin
3 cups (16 ounces) of frozen corn
1 medium sweet red pepper, chopped
1 poblano pepper, seeded and chopped
¾ pound of Chorizo de San Manuel pork chorizo or our Chorizo de San Manuel jalapeño and cheese sausage
2 cartons (32 ounces each) of reduced-sodium chicken broth
1 ½ pounds of potatoes (about 4 medium-sized potatoes), peeled and cut into ½ inch cubes
Optional: Queso fresco and chopped fresh cilantro
Directions
In a Dutch oven pot, cook and crumble chorizo over medium heat until it is cooked through, or for about 4-6 minutes.
Using a slotted spoon, remove the chorizo and place onto paper towels.
Reserve 2 tablespoons of chorizo drippings in the pan.
In the drippings, sauté the onion, red pepper, and poblano peppers over medium heat until tender, or for about 8-10 minutes.
Add garlic, cook, and stir for an additional 1 minute.
Stir in flour and seasonings until blended—Cook and stir for 3 minutes. Gradually stir in broth.
Add potatoes and corn and bring to a boil.
Reduce the heat and simmer, uncovered, until potatoes are tender, or for about 10-15 minutes.
Stir in sour cream and chorizo and heat thoroughly.
If desired, serve with cheese and cilantro.
Buy Mexican Chorizo Online!
Enjoy the flavor of our Mexican chorizo with other recipes. Make sure to follow and tag us on Instagram and Facebook! Send us a message online if you have any questions about our nationwide shipping!