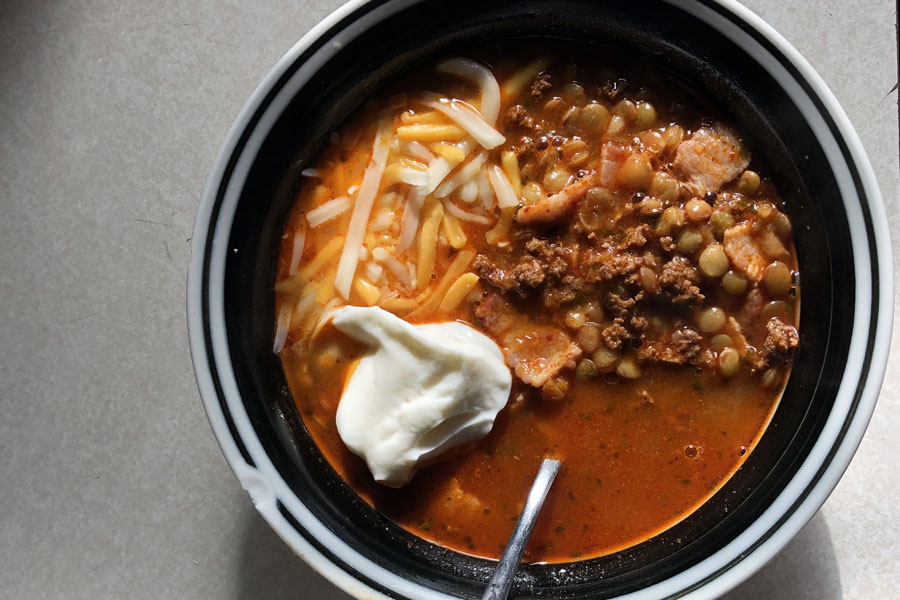 11 Oct Enjoy A Warm Bowl of Lentils with our Texas Brand Chorizo!
Recipe and picture courtesy of Allrecipes.
Stay cozy during the chilly fall weather with a warm bowl of lentils with Texas Brand chorizo, filled with flavorful spices, bacon, lentils, and our pork chorizo. We would like to thank the talented chefs of Allrecipes for this recipe.
Preparation
15 minutes
Cooking Time
35 minutes
Yield
5 servings
Ingredients
½ pound of dry lentils
1 cube of chicken bouillon
½ pound of pork chorizo with casing removed and meat crumbled
6 slices of bacon
1 diced Roma tomato
1 diced tomatillo
1 diced white onion
2 cloves of minced garlic
½ cup of water
½ bunch of chopped cilantro
⅛ teaspoon of cumin
5 teaspoons of cotija cheese, divided
5 teaspoons of sour cream, divided
Directions
Rinse lentils and place in large pot. Pour enough water into the pot to cover the lentils by 2 inches, then add the chicken bouillon cube to the pot.
Bring the pot to a simmer and cook for about 20 minutes or until lentils are tender.
While lentils are cooking, heat a large skillet over medium-high heat.
Cook chorizo for 10 to 15 minutes or until brown, and remove chorizo from the pan.
In the same pan, lightly fry 6 slices of bacon for about 5 minutes or until softened and cooked.
Remove the bacon, leaving drippings in the pan. Chop up the bacon.
Cook the tomato, tomatillo, onion, and garlic in the bacon fat for about 5 minutes or until soft.
Stir in the water and cilantro, then transfer the mixture to a blender.
Blend mixture in short pulses first, then puree mixture until smooth.
Stir the pureed vegetables, cooked chorizo, cooked bacon, and cumin into the lentils.
Stir over medium heat for about 5 minutes or until hot.
Top meal with a teaspoon of cotija cheese and a dollop of sour cream.
Order Texas Brand Chorizo Online!
Check out other delicious chorizo recipes featuring our popular chorizo brands. Show us your chorizo recipes on our Instagram and Facebook! Send us a message online if you have any questions or would like to learn more about our nationwide shipping.