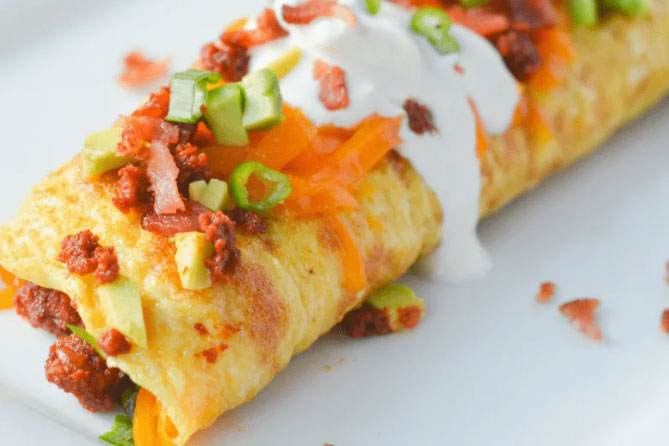 04 Mar Get Egg-cited for Keto Chorizo Omelettes!
Recipe and picture courtesy of Hey Keto Momma.
Take charge of your mornings with keto chorizo omelettes! Be sure to substitute the chorizo with one of our own: chicken, pork, beef, or San Luis chorizo. Thank you to the fantastic chefs from Hey Keto Momma for this recipe.
Total Time
15 Minutes
Yields
2 Servings
Ingredients
Omelette
2 large eggs
2 ounces of our Mexican brand chorizo
salt & pepper to taste
¼ cup spinach, chopped
2 tablespoons of white onion
¼ cup cheddar cheese, shredded
2 tablespoons of heavy whipping cream
Toppings
⅛ cup of avocado, diced
1 tablespoon sour cream
1 slice of bacon, crumbled
Directions
Cook according to package instructions.
Whisk eggs, spinach, heavy whipping cream, and onion in a medium bowl.
Pour mixture into a non-stick skillet at low to medium heat.
Flip the omelette when firm enough.
Cover the omelette briefly with a lid if it is not firming up.
Sprinkle cheese on the other side and cook evenly.
Remove from heat and place on plate.
Add chorizo to omelette and roll egg.
Top with sour cream, diced avocado, and bacon.
Tag Us Online!
Check out all of our products online. Be sure to send us a message if you have any questions about our online ordering. Follow and tag us on Instagram and Facebook.