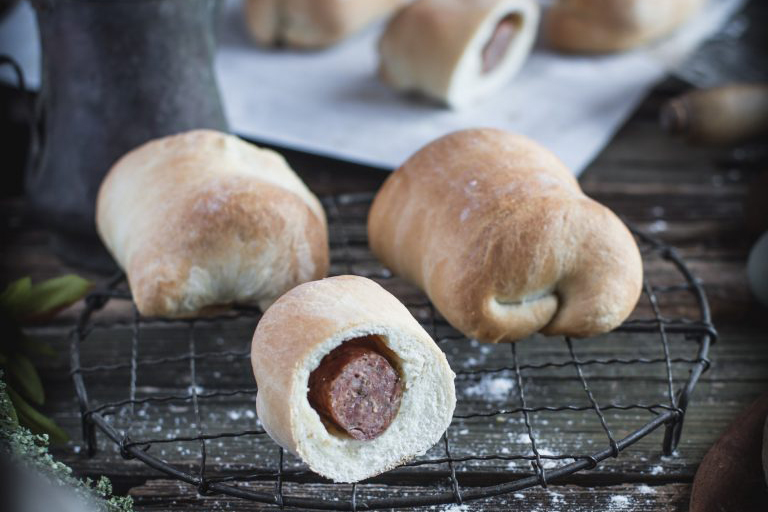 11 Dec

Czech-Style Kolaches with Chorizo de San Manuel Jalapeño and Cheese Sausages

Photos and recipe courtesy of Melissa Guerra of KitchenWrangler.com.

The sausage kolache is a Texas delicacy that makes for a delicious breakfast or tasty snack. KitchenWrangler.com's Melissa Guerra will show you how to make these delightful goodies using Chorizo de San Manuel jalapeño and cheese sausages.

Thanks so much, Melissa! They're delicious!

Ingredients:
5 to 6 cups of bread flour
¼ cup of sugar
1 ½ tsps. of salt
2 pk. of yeast (14 gr.)
1 cup of whole milk
2/3 cup of water
4 tbsps. of butter
2 eggs (room temperature)
1 package of Chorizo de San Manuel jalapeño and cheese sausages
4 tbsps. of melted butter for brushing
Directions:
Combine your sugar, salt, yeast, and two cups of flour in a mixer bowl.
In a microwavable bowl, mix your milk, water, and four tablespoons of butter and set on high for 1 ½ minutes, or until the temperature reaches 120°F to 130°F.
Using a mixer, slowly add your milk mix from the microwave.
Add the eggs and continue to mix on low speed until blended well.
Next, change the mixing paddle on the mixer to a dough kneading hook and add another two cups of flour.
Knead for five minutes on low speed while adding the remaining amount of flour so the dough becomes cohesive and elastic. If you choose to hand-knead the dough, do it for 10 minutes on a floured surface.
Place the dough in a bowl greased with olive oil and cover it with a clean towel in a warm, draft-free environment.
After an hour, uncover the dough and punch down. Then divide the dough into 10 equal parts.
Cut the sausages into 2½ inch lengths.
Take each portion of the dough and shape them into balls. Then, on a floured surface, roll each ball into a flat, circular shape.
Place a cut sausage on the circular flour shape and wrap it to form the kolache.
Allow the kolaches to rise for 40 minutes.
Preheat your oven to 350°F and line a baking sheet with parchment or baking paper.
Brush the top of each kolache with melted butter and bake for 25 to 30 minutes until the kolaches are golden brown.
Remove from the oven and let them cool before serving.
After a bite of these kolaches, you'll be glad to have made them. Be sure to tag us on social media below if you try the recipe out!
Enjoy!