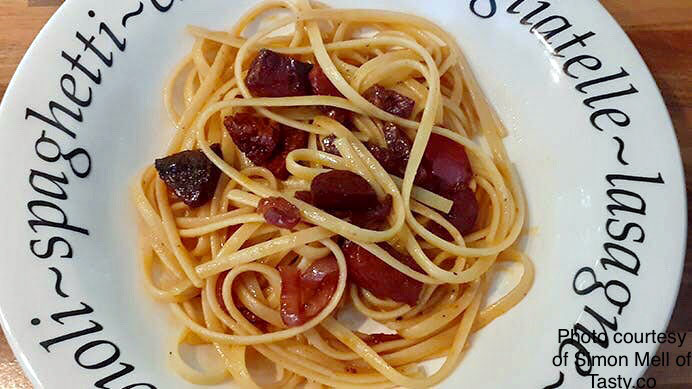 25 Aug

Spicy Jalapeño and Cheese Sausage Pasta!

Recipe and photo courtesy of Simon Mell of Tasty.com.

If the family is craving pasta tonight for dinner, then how about trying to spice it up a bit as an alternative? If this sounds enticing, then we have a dish for you! This week's recipe comes to us from the very talented Simon Mell of Tasty.com. It's a spicy jalapeño and cheese sausage pasta dish that will surely get your taste buds dancing! As always, we've made a small alteration to the original recipe. We've simply substituted Simon's choice of chorizo sausage with our own jalapeño and cheese sausage. Try this out and we promise there won't be anything left of this delicious entrée after!
Preparation time:
10 minutes
Cooking time:
15 minutes
Serving size:
4
Ingredients
1 of our delicious jalapeño and cheese sausage links

1 diced red onion

1 tbsp. of olive oil

1/8 cup of red wine (optional)

1 pack of pasta (cook for four servings)

2 tbsp. of balsamic vinaigrette

½ tsp. of smoky chipotle tabasco sauce

Salt and pepper to taste
Directions
In a large pot, boil enough water to cook the pasta.

Add the olive oil and diced onion to a medium-sized pan on medium heat.

Divide the jalapeño and cheese sausage into five equal-sized pieces and add to the pan.

Stir in the balsamic vinaigrette and sauté for 5 minutes or until the sausage is crisp.

Add the wine and tobacco sauce and stir.

Add the pasta to the boiling water and cook for seven to nine minutes or until soft.

Once done, drain the water and add the chorizo mix to the pasta.

Season to taste with the salt and pepper and stir.

Let it sit for five minutes, serve, and enjoy!
Try out this fiery recipe and tag us on Facebook, Twitter, or Instagram to let us know how it is! Also, try out our other delicious products or recipes for your next meal as well!