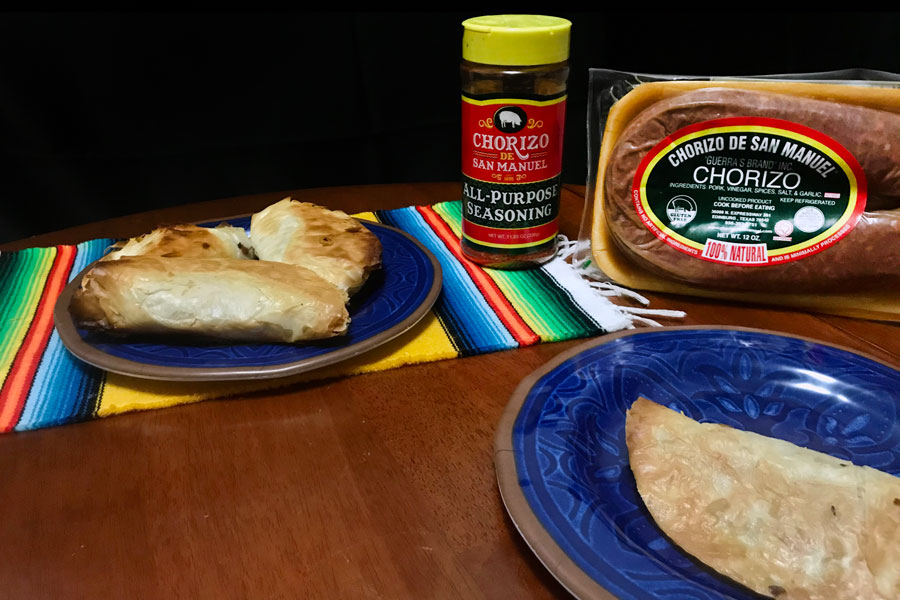 10 Dec Make Your Holiday Celebration Extra Memorable with Chorizo Empanadas!
Recipe courtesy of Stuart O'Keeffe of FoodNetwork.com.
This holiday season enjoy some baked goodies with a twist with this recipe for chorizo empanadas from Stuart O'Keeffe of FoodNetwork.com. They'll surely add that much-needed variety to your holiday feast. With the only change being the addition of our own Guerra's Brand pork chorizo, these empanadas will be bursting with flavor!
Bon appetite! 
Preparation Time
30 minutes
Cooking Time
15 minutes
Total Time
45 minutes
Serves
Around 24 empanadas
Ingredients
½ a pound of ground beef
½ a package of our Guerra's Brand pork chorizo
1 tablespoon of extra-virgin olive oil
¾ of a cup of finely chopped onion
2 cloves of diced garlic
¼ of a teaspoon of ground cumin
½ a teaspoon of kosher salt
½ a teaspoon of freshly-ground black pepper
½ a cup of all-purpose flour
1 2-crust pie package
1 large egg
Directions
Preheat your oven to 375°F.
In a large skillet, heat the olive oil over medium to high heat.
Add the beef, chorizo, onion, garlic, cumin, salt, and pepper. Break up the ingredients and cook for 5 to 7 minutes or until the meat has browned.
Set aside to cool.
On a floured surface, roll out each pie crust into a 1-foot diameter circle. Stamp out round pieces of pie crusts using a 3-inch cutter.    
Put 1 tablespoon of the meat filling in each crust.
Fold them closed and crimp the edges with a fork. Repeat for each. 
Scramble the egg and brush it on each empanada.
Bake the empanadas for about 15 minutes or until they are golden brown on a greased baking sheet.
When done, let them cool for about 5 minutes and enjoy!
If you liked this delicious chorizo empanada recipe, then you'll love our other recipes featuring our various products. Let us know how much you enjoyed them by tagging us on Facebook, Twitter, and Instagram!