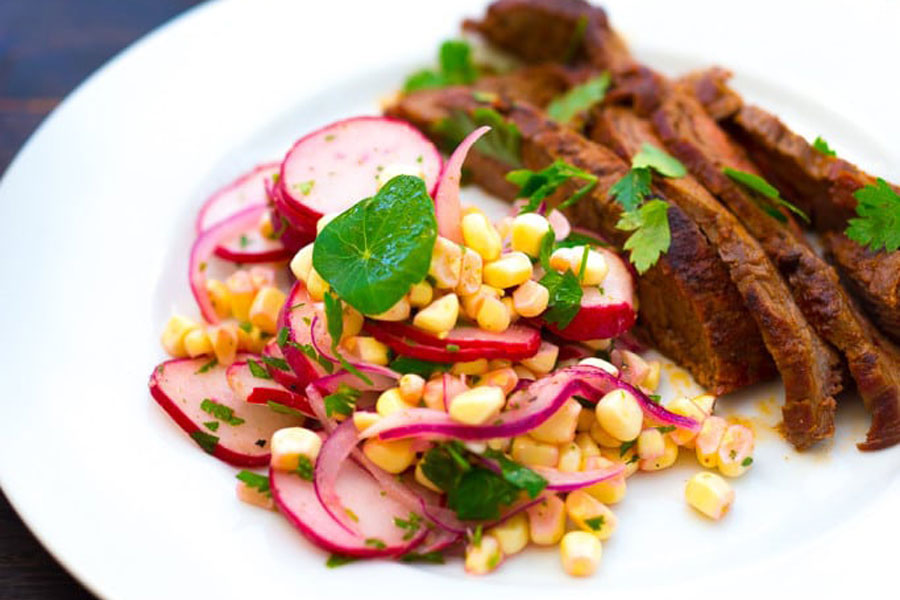 09 Aug Grilled Beef Fajitas with Corn & Radish Salad
Recipe and photos courtesy of FeastingAtHome.com.
This grilled beef fajita with corn and radish salad is full of flavor! For the fajita portion, we'll be substituting in our marinated beef fajitas. This dish comes to us from the talented chefs and bloggers at FeastingAtHome.com.
Preparation Time
20 minutes
Cooking Time
15 minutes
Yields
4 Servings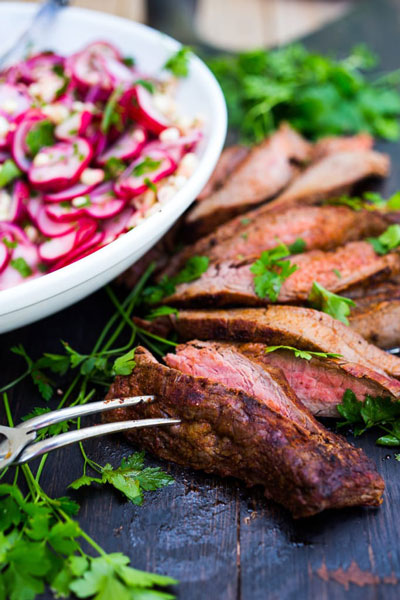 Ingredients
1½ to 2 lbs. of our marinated beef fajitas
3 ears of corn on the cob, shucked
10 thinly sliced radishes
¼ cup of thinly sliced red onion
¼ cup of chopped Italian parsley
½ a teaspoon of salt
¼ of a teaspoon of cracked pepper
1 teaspoon of ground coriander
1/8 of a cup of olive oil
¼ of a cup of fresh lime juice (2 limes)
Directions
Preheat your grill to medium and let the fajitas sit at room temperature while you make the salad.
Shuck and clean the cobs and grill lightly for a few minutes on each side.
Cut the kernels off into a large bowl.
Add the sliced radishes, onions, and chopped parsley and mix well.
Stir in the lime juice, olive oil, salt, pepper, and coriander. Toss well and set aside in the fridge.
Grill the fajitas for about five minutes on each side or until nicely charred.
Let the fajitas stand for 5 to 10 minutes, then serve with the corn radish salad and enjoy!
Order Beef Fajitas and More Online!
Make sure to check out our other recipes featuring our other prime beef products or our authentic Mexican chorizo brands. Buy chorizo online and have it delivered to your door with our nationwide shipping. Contact us for questions about our products or services.