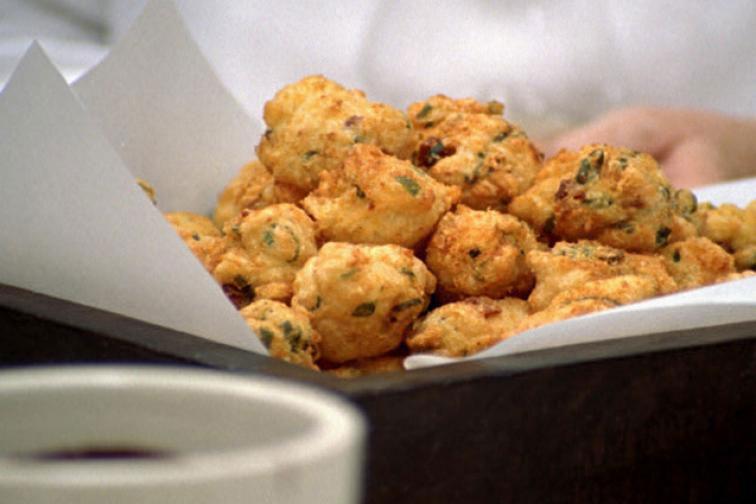 17 Feb Fried Chorizo Puffs – the Perfect Appetizer for any Occasion!
Recipe and photo courtesy of Cookworks and FoodNetwork.com. 
If you're a fan of fried appetizers or snacks, then try this recipe courtesy of Cookworks at FoodNetwork.com. It's delicious, easy to make, and is perfect for any occasion! For the chorizo, we're substituting the recipe's original choice with the best chorizo brand on the market, our own pork chorizo. It'll surely turn the flavor up a notch, so check it out below!
Preparation Time
35 minutes
Cooking Time
35 minutes
Serves
60 
Ingredients for the Chorizo Puffs
4 ounces of our pork chorizo
¾ cup of diced Manchego cheese 
¼ cup of thinly sliced green onions
1 cup of water 
4 ounces of unsalted butter cut into small cubes 
¼ teaspoon of salt 
1 cup of flour 
4 eggs 
Vegetable oil  
1 pastry bag
4 teaspoons of spice mixture (ingredients found below)
Ingredients for Spice Mixture
½ cup of Kosher salt 
¼ cup of ground coriander 
2 tablespoons of ground cumin 
2 tablespoons of Spanish sweet paprika 
2 teaspoons of cayenne pepper 
Directions
In a small sauté pan, lightly cook the chorizo, remove from the heat, and add the cheese and green onions. Set aside. 
In a large saucepan, bring the butter, water, and salt to a boil. Remove from the heat, add flour, and stir until the mixture comes together into a ball. Return to the heat and stir for two minutes. 
In a mixer, whip the eggs into the dough for three to four minutes. 
Stir in the chorizo mix and add to the pastry bag. 
On a lightly floured surface, squeeze out one-foot-long ropes and cut them into 1½-inch long pieces. 
Pour 2 cups of vegetable oil into a frying pan on medium heat. When the oil is ready, carefully add the dough pieces and fry until golden brown. 
Drain on a paper towel and season with 1 teaspoon of the spice mixture. 
Repeat until you have about 60 chorizo puffs or all of the dough is used up. 
Enjoy!
Buy Chorizo Online!
These fried chorizo puffs make for an excellent, anytime snack or appetizer. Be sure to check out our other recipes and follow us on Facebook, Twitter, and Instagram!