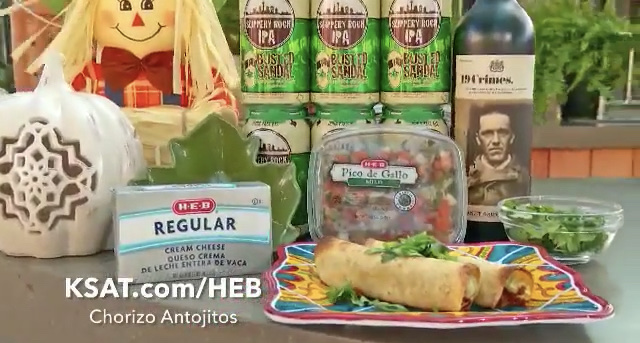 31 Jan Flavorful Chorizo Antojitos
Photos and recipe courtesy of H-E-B.
When adding Chorizo de San Manuel to your favorite dishes, it can take them to the next level! Packed with flavor and easy to make, our chorizo matches perfectly with this chorizo antojitos recipe from the talented chefs at H-E-B! Check it out below, try it for yourself, and enjoy!
Preparation time: 20 minutes
Cooking time: 15 minutes
Total time: 35 minutes
Serves: 12 people
Ingredients:
8 oz. of softened cream cheese
1 tsp. of Marie Sharp's Green Habanero Pepper Sauce
¼ cup of fresh, chopped cilantro
12 corn or flour tortillas
6 oz. (half a package) of Chorizo de San Manuel Guerra's Brand pork chorizo
12 oz. of pico de gallo, drained
2 cups of shredded Monterey Jack cheese
Directions: 
Cook the chorizo over medium heat for about 5 to 7 minutes. Remove the pan and set aside.
Preheat your oven to 375°F and line a baking sheet with parchment paper.
In a bowl, mix the cream cheese, cilantro, and pepper sauce. Lay out your tortillas and spread an even layer of the mix onto each.
Spread the chorizo, pico de gallo, and cheese evenly over each tortilla. Roll each tortilla up tightly and be careful not to allow any ingredients to spill out. This step is shown in the video for your convenience.
Place the tortillas on the baking sheet and heat in the oven for 15 to 20 minutes or until the tortillas are slightly brown and the cheese is melted.
Remove the baking sheet from the oven and allow to cool for a few minutes. Cut the antojitos in half and serve with salsa or sour cream.
If making this recipe at home, be sure to let us know by tagging us on social media.
Enjoy!