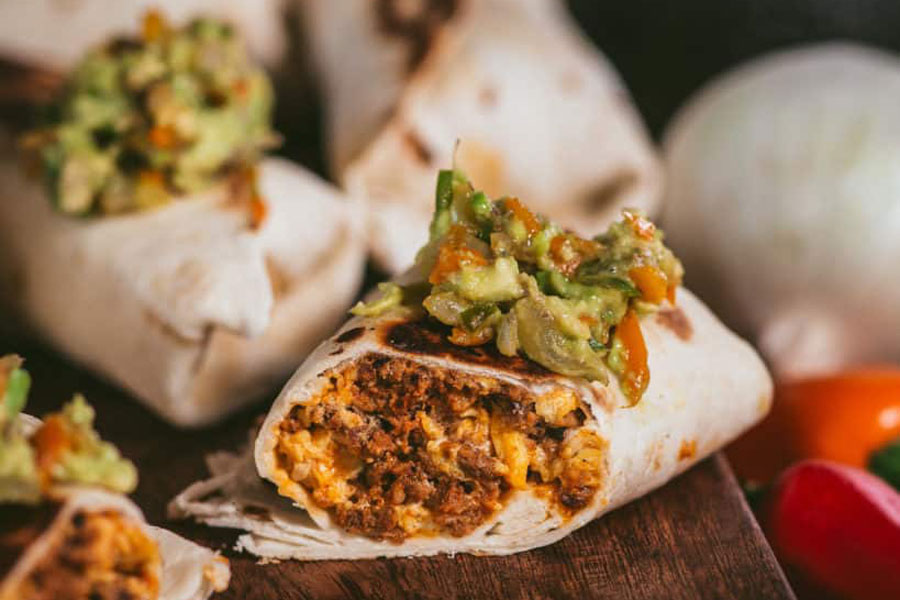 27 May

Enjoy Bright Mornings with Breakfast Burritos With our Top Chorizo Brands

Recipe and picture courtesy of Kitchen Wrangler.

We tend to rush through our mornings and forget to eat the most important meal of the day! This is why Mexican chorizo and egg burritos are the best to eat when you're on the go. As stated with this recipe, we recommend using our top chorizo brands – chicken, beef, pork, or San Luis chorizo. Thank you to the chefs from Kitchen Wrangler for featuring us in this fantastic recipe.
Total Time
10 Minutes
Yield
8 Servings
Ingredients
12 eggs
8 to 12 (8"/20 cm) large burrito style flour tortillas
12 ounces (340 grams) of any of our chorizo brands!

 

Vegetable oil (Necessary only if you are using a cast iron griddle)
Directions
Heat a 10" (25cm) skillet on the stove. (If using a cast iron griddle, prepare the griddle by seasoning it with a bit of vegetable oil.)

 

Remove the Mexican chorizo from its casing and place it on the hot griddle. Break up the chorizo with a spoon so that it cooks evenly.
Crack the eggs into a large bowl and beat until blended.

 

Pour the eggs into the cooked Mexican chorizo and fold them together while the eggs cook over medium heat.

 

Remove the cooked eggs to a clean bowl.
Meanwhile, heat a griddle on the stove. Heat the flour tortillas until they are pliable.

 

Add several spoonfuls of the chorizo/egg mixture.

 

Fold the burritos and then toast the burritos on the heated griddle (You may need to add a bit of vegetable oil to the griddle for better toasting.)
Serve warm with salsa.
Order Our Chorizo Brands Online
Check out all of our chorizo products and recipes. Be sure to send us a message online if you have any questions about our online ordering. Tag us cooking up your burritos on Instagram and Facebook. Use #bestchorizobrand.