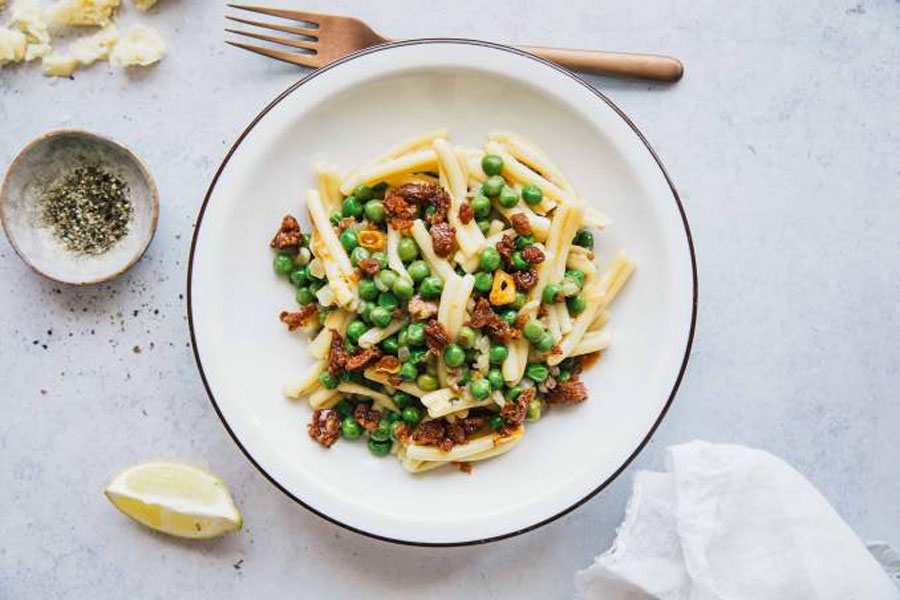 19 Apr

Enjoy a Delectable Spring Pea Pasta with our Mexican Chorizo

Recipe and picture courtesy of Jernej Kitchen.

Spring has sprung, and there are many celebrations coming up in May, including Mother's day, Cinco de Mayo, and many upcoming graduation parties. Add our Mexican chorizo to this creamy pea pasta for a real treat. Be sure to substitute our chicken chorizo, beef chorizo, pork chorizo or San Luis Chorizo. Thank you to the talented recipe.
Total Time
20 minutes
Yields
2 servings
Ingredients
½ of a lemon
½ of an onion
2 cloves of garlic
2 tbsp of olive oil

3 tbsp white wine

7 ounces (200 g) of frozen peas

1 tbsp of freshly chopped parsley

1 pinch of smoked paprika (optional)

1 tbsp of freshly grated parmesan cheese

4.3 oz (120 g) of our Mexican chorizo

6.5 ounces (180 g) of your favorite pasta (ex: penne)
Directions
Finely chop the chorizo. Place a skillet over medium-high heat.

 

Add the olive oil, chorizo, and thinly sliced garlic. Optionally add a pinch of smoked paprika.

 

Cook for about 3 – 5 minutes or until nice and golden brown. Stir occasionally.

Bring a large pot of salted water to a boil.

 

Add the pasta and cook according to the packet instructions or until cooked al dente.

Transfer half of the chorizo to a plate.

 

Add diced onion and parsley to the pan. Cook for 2 to 3 minutes.

 

Add frozen peas, white wine, and 3 tbsp (30 ml) water. Cover with a lid and cook for 5 minutes.

Add al dente cooked pasta, 4 tbsp of reserved pasta water, and freshly grated parmesan cheese. Toss well to get a nice, silky pea pasta dish. Season with black pepper and salt.

Divide the pasta between two plates. Sprinkle with the rest of the chorizo.

 

Drizzle with some freshly squeezed lemon juice and sprinkle with freshly grated parmesan cheese. Optionally sprinkle with freshly chopped parsley. Serve as soon as possible. Enjoy.
Order Our Mexican Chorizo Brands
Check out our Mexican chorizo and order online! Send us a message if you have any questions about our online ordering. Tag us on Instagram and Facebook.