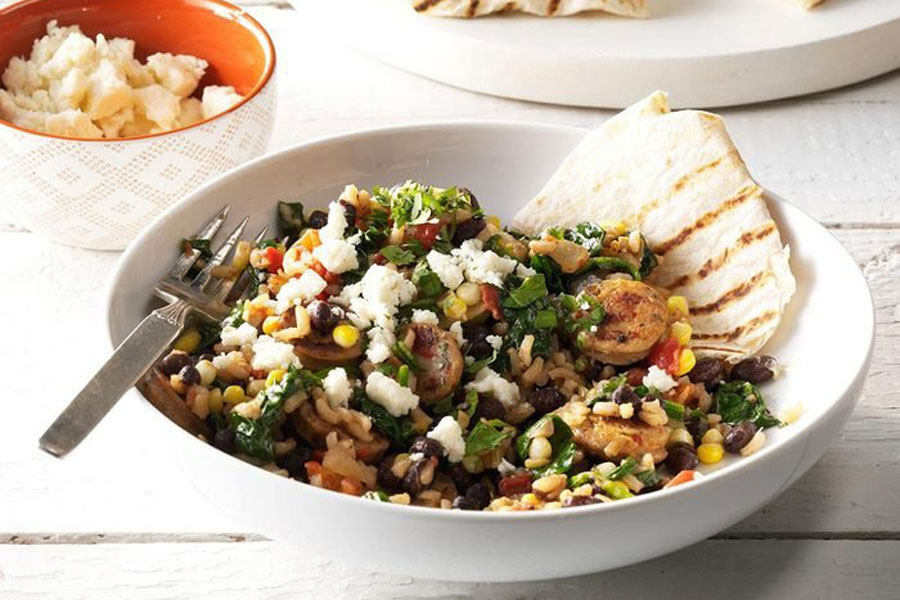 23 Sep

Try These Easy-To-Make Chorizo Burrito Bowls!

Recipe and photo courtesy of Taste of Home.

Chorizo burrito bowls are hassle-free and filling meals that can satisfy your cravings! This burrito bowl recipe includes a little bit of everything: rice, beans, greens, and our pork chorizo or chicken chorizo! This wonderful recipe is brought to you by the experienced chefs at Taste of Home. The only change we're making is substituting in our own chorizo.
Preparation and Cooking Time
25 minutes
Yields
4 servings
Ingredients
2 teaspoons of canola oil
1 package (12 ounces) of our pork or chicken chorizo
1 medium onion, chopped
1 can (15 ounces) of non-sodium black beans, rinsed and drained
1 can (10 ounces) of diced tomatoes and green chiles, undrained
1 cup of fresh or frozen corn
1 package (8.8 ounces) of ready-to-serve brown rice
2 cups of fresh baby spinach
¼ cup of crumbled queso fresco or shredded Monterey Jack cheese
Chopped fresh cilantro
Directions
In a large skillet, cook the chorizo in canola oil over medium heat until lightly browned. Remove it from the pan when done.
Cook the chopped onion in the same skillet for 3 to 5 minutes or until tender.
Stir in the cooked chorizo, black beans, corn, and diced tomatoes with green chiles and bring it all to a boil.
Reduce the heat and let it simmer uncovered for five minutes.
Stir the rice and spinach into the mix and cook it for an additional 2 to 3 minutes.
Serve and top it off with cheese and chopped cilantro for garnish.
Buy Chorizo Online!
Check out more recipes featuring our authentic chorizo brands online. Follow us on Facebook and Instagram for even more salivating tips! Send us a message or call (956) 383-8751 for any questions about our nationwide shipping!