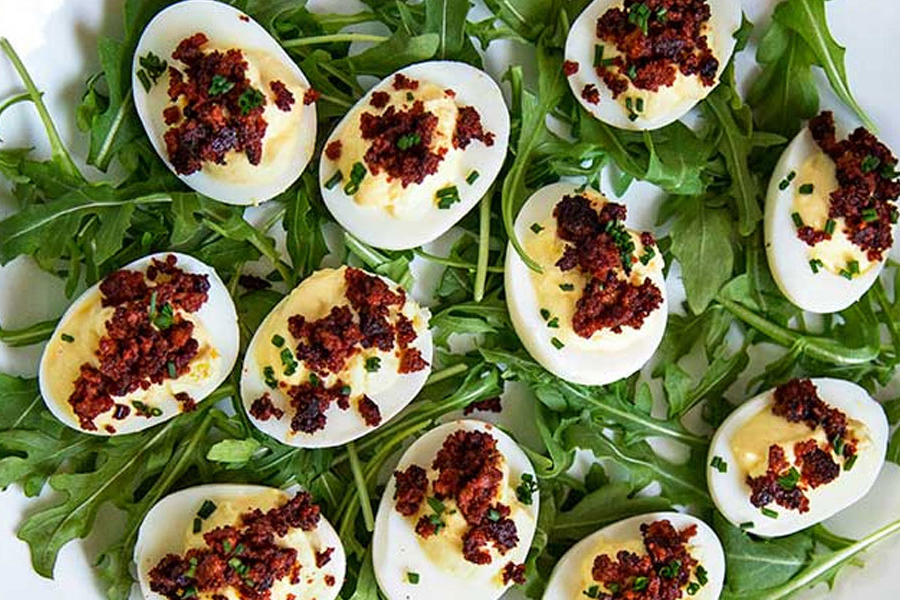 20 Feb

Crispy Chorizo Deviled Eggs!

Recipe and photos courtesy of KevinIsCooking.com.

If you like deviled eggs, then we have a recipe that's loaded with flavor! Perfect for a game day snack or a small meal, these crispy chorizo deviled eggs are great at any time! This week's recipe comes to us from the talented Kevin O'Leary of KevinIsCooking.com. All we did was substitute his chorizo choice with ours. We hope you enjoy what's he's cooked up!

Preparation time: 15 minutes

Cooking time: 12 minutes

Total time: 27 minutes

Serves: 8 people

Ingredients:
4 oz. of our "Guerra's Brand" pork chorizo
8 large eggs, hard-boiled, cooled, and peeled
1 tbsp. of oil from the cooked chorizo
¼ cup of Greek yogurt
1 tbsp. of lemon juice
1 tsp. of lemon zest
½ tsp. of chili powder
½ tsp. of garlic powder
½ tsp. of kosher salt
1 tbsp. of chopped chives
Instructions:
Place the chorizo in a non-stick sauté pan and cook over medium heat for 5 to 8 minutes or until the chorizo becomes brown.
Reserve one tablespoon of oil from the cooked chorizo and discard the remaining oil.
Cut the boiled eggs in half and remove the yolks. Then set the egg whites on a tray.
In a bowl, combine the yolks, the reserved chorizo oil, yogurt, lemon juice, chili, garlic powder, lemon zest, and kosher salt until the mixture is creamy.
Using a rubber spatula, pour the egg yolk mixture into a plastic bag. Cut off a very small portion of the corner and evenly squeeze out the yolk mixture into each half egg.
Top off the deviled eggs with the crispy pork and chives.
These crispy chorizo deviled eggs are great to snack on during a game or appetizer. If you try this recipe at home, take a photo and tag us on social media!
Enjoy!