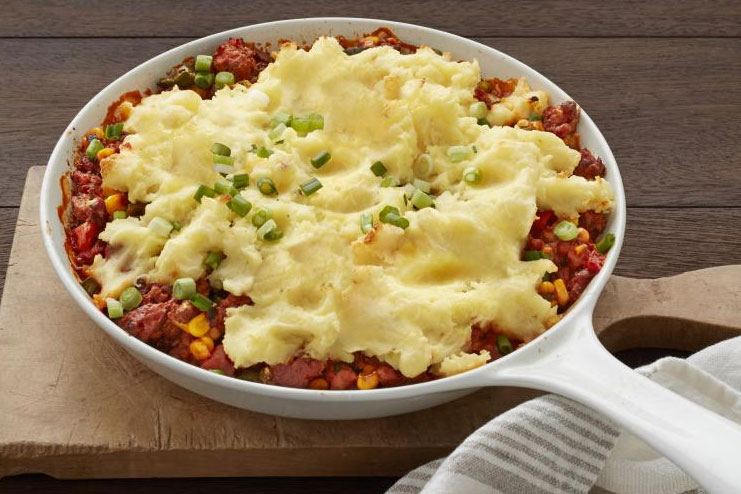 09 Feb

The Classic Shepard's Pie…with a Chorizo Twist!

Recipe and photo courtesy of Food Network Magazine. 

If you're in the mood for a classic meal with a spicy chorizo twist, then we have the dish for you! This spicy shepherd's pie comes to us from the talented chefs at Food Network Magazine. We'll be substituting the original chorizo with our own pork chorizo and ground beef with our own selection for an extra kick. 
Preparation Time
40 minutes 
Cooking Time
50 minutes
Serves
6
Ingredients
2 pounds of peeled and quartered Russet potatoes

 

8 ounces of our Guerra's Brand pork chorizo

 

12 ounces of our ground beef

 

1 bunch of chopped scallions

 

Kosher salt

 

Ground pepper

 

1 tablespoon of extra-virgin olive oil

 

2 cups of frozen corn

 

1 chopped poblano chile pepper
2 tablespoons of tomato paste

 

½ teaspoon of ground cumin

 

½ teaspoon of chili powder

 

A 14.5-ounce can of diced tomatoes with green chile

 

1 cup of low-sodium chicken broth

 

½ cup of sour cream

 

3 tablespoons of butter

 

1½ cups of shredded pepper jack cheese

 

 
Directions
Preheat your oven to 400°.
Add your potatoes into a saucepan with cold water and bring to a boil until tender.

 

Heat the olive oil in a large, ovenproof skillet and cook the chorizo for five minutes.

 

Add the ground beef and cook for five more minutes.

 

Stir in the scallions, corn, poblano pepper, tomato paste, cumin, chili powder, a teaspoon of salt, and a teaspoon of pepper, and cook for five more minutes.

 

Add the can of tomatoes and chicken broth, reduce the heat to low, and simmer for 10 minutes.

 

Drain the potatoes and add butter and sour cream and mash well.

 

Blend in the cheese and a sprinkle of salt and pepper.

 

With a spoon, add scoops of mashed potatoes on top of the meat mix, and spread evenly.

 

Move the skillet to the oven and bake for 25 to 30 minutes or until the topping browns.

 

Let it rest for 10 minutes, sprinkle with scallions, and serve.

 
If you enjoyed this dish, check out our other recipes featuring our pork, beef, and chicken chorizos. It's the best chorizo brand! Take a shot at this shepherd's pie and tag us on Facebook, Twitter, or Instagram to let us know how it was. Also be sure to buy chorizo online by clicking here.