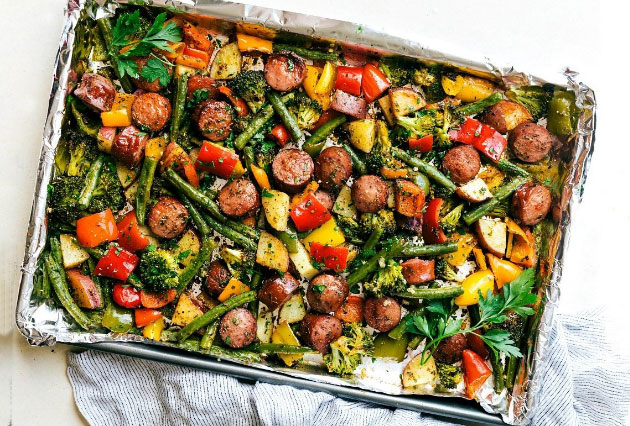 18 Jan

Simple, Nutritious, and Delicious Sheet Pan Cilantro Sausage and Veggies!

Recipe and photo courtesy of ChelseasMessyApron.com.

After a long day at work and running errands, the last thing you'll want to do is slave over a stove for dinner. Thankfully, we have a recipe for you that's simple, nutritious, and delicious. This sheet pan cilantro sausage and veggie dish comes to us via ChelseasMessyApron.com and is full of flavor! For the sausage, we'll be including our cilantro sausage for a bit of an extra kick.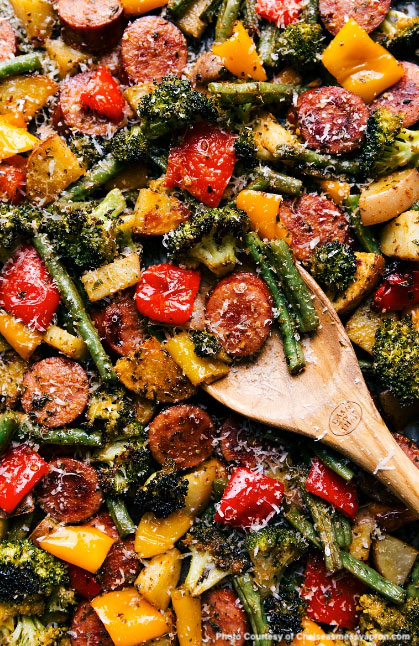 Preparation Time
20 minutes
Cooking Time
30 minutes
Total Time
50 minutes
Serves
4
Ingredients
4 diced baby red potatoes

3 cups of trimmed and halved green beans

1 large, chopped head of broccoli

2 chopped red bell peppers

1 pack of our cilantro sausage

6 tablespoons of olive oil

1 teaspoon of paprika

½ a teaspoon of garlic powder

1 tablespoon of dried oregano

1 tablespoon of dried parsley

Salt and pepper
Directions
Preheat your oven to 400° and line a large sheet pan with parchment paper.

Be sure to wash the vegetables. Peel the potatoes and chop the vegetables and sausages. Place everything on the pan.

Add the vegetables to the sheet pan and top with olive oil, paprika, garlic powder, oregano, dried parsley, and salt and pepper. Be sure to spread all spices evenly.

     

Bake for 15 minutes, flip the mixture, and bake for another 15 minutes.

Serve and enjoy!
Order Your Chorizo Online Today!
If you enjoy this recipe, then check out our other recipes featuring our jalapeno and cheese sausages or our Guerra's Brand chorizo. Try this dish tonight and tag us on Facebook, Twitter, or Instagram to let us know how it was. If you can't find our products at your local supermarket, don't forget we can ship our products nationwide. Place your chorizo order online today!