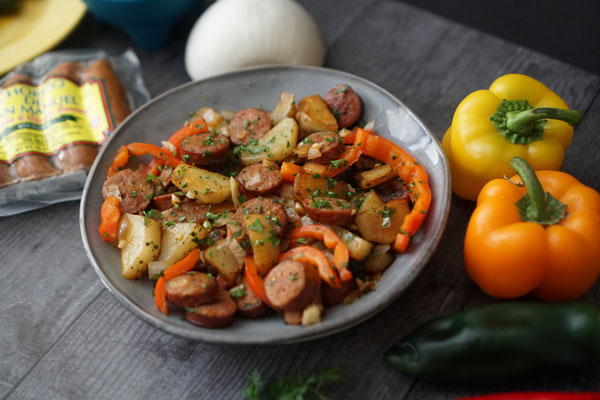 06 Oct

A Quick Meal of Cilantro Sausage and Potatoes That the Family Will Love!

Recipe courtesy of Christina Cherrier of EatWell101.com.

Are you always on the go but tired of picking up fast food for lunch and dinner? If so, try this easy cilantro sausage and potato recipe that's delicious and doesn't take long to cook up. It comes to us courtesy of the very talented Christina Cherrier of EatWell101.com and is incredibly tasty. The only change we'll be making is adding our own cilantro sausage to give it an extra shot of flavor!
Preparation Time
5 minutes
Cooking Time
20 minutes
Serves
6
Ingredients
1 ½ pounds of baby potatoes cut into quarters
1 minced onion
1 sliced red bell pepper
1 package of our sliced cilantro sausage
4 tablespoons of olive oil
2 teaspoons of Italian seasoning
½ a teaspoon of minced garlic
¼ of a cup of low-sodium chicken, beef, or vegetable stock
1 teaspoon of hot sauce
Chopped parsley for garnishing
Salt and pepper to taste
Grated parmesan (optional)
Directions
In a large cast-iron skillet, heat three tablespoons of olive oil over medium heat.
Add the potatoes and season with salt and pepper. Sauté for 10 to 12 minutes or until they turn golden brown. Remove and set aside.
In the same skillet, add the remaining olive oil and the sliced cilantro sausage. Cook for 5 minutes over medium heat.
Stir in the garlic, onion, bell pepper, Italian seasoning, salt, and pepper. Cook for 2 to 3 minutes.
Pour in the stock, hot sauce, and potatoes. Stir well.
Top with the chopped fresh parsley and parmesan cheese.
Enjoy!
Try this recipe and tag us on Facebook, Twitter, or Instagram to let us know how it was! Check out our other mouth-watering recipes and place an online order for one of our other delicious products.