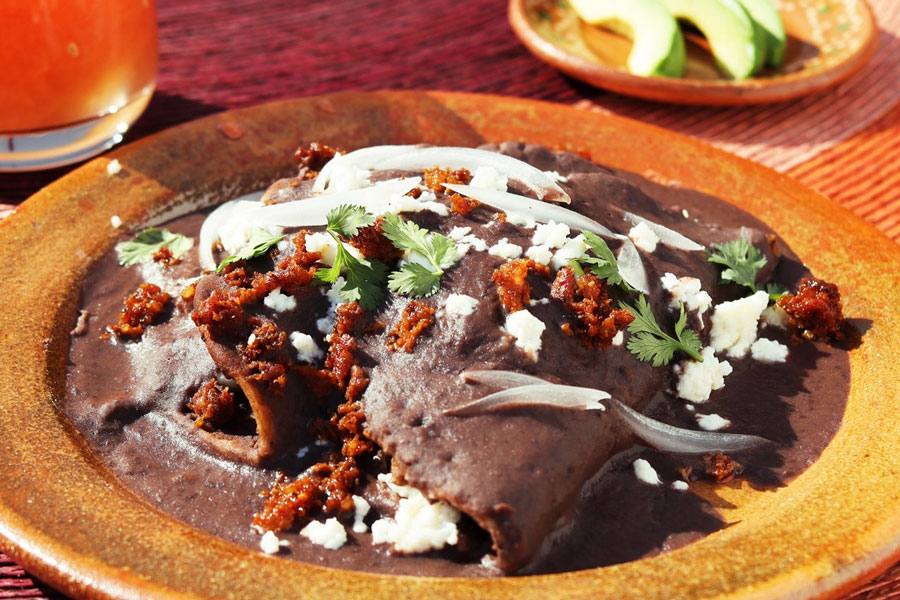 03 Sep Chorizo with Enfrijoladas: An Authentic Mexican Dish!
Recipe and photo courtesy of BonAppétit.com.
One of the best things about authentic Mexican chorizo is cooking and sampling all the delicious traditional Mexican dishes that have it. Enfrijoladas is a classic recipe that combines corn tortillas, Cotija cheese, black beans, and our pork chorizo. This recipe comes to us from the skilled chefs at BonAppétit.com, and it is incredible!
Enjoy!
Preparation Time
10 minutes
Cooking Time
15 minutes
Yields
4 servings
Ingredients
5 tablespoons of vegetable oil, divided in each serving
8 corn tortillas
12 ounces of our pork chorizo
3 crushed garlic cloves
½ of a thinly sliced medium white onion
3 cups of drained frijoles de la olla (2 15-oz. cans of black beans can be substituted)
1½ cups of low-sodium chicken broth
6 oz. of crumbled Cotija cheese
1 sliced avocado
Salt to season
Cilantro leaves with stems
Directions
Place a large skillet over medium heat and brush two tablespoons of vegetable oil on each tortilla.
Heat the tortillas in the skillet until browned on each side.
Heat the remaining three tablespoons of oil in the same skillet and cook the chorizo for seven to nine minutes.
Set the chorizo to the side for later.
In the same skillet, add the onion and garlic and season with salt. Cook until tender.
Add the garlic, onions, beans, and chicken broth to a blender. Blend until smooth like yogurt.
Pour the mix into the skillet and bring to a boil.
Reduce the heat to low and dip the tortillas into the bean mix. Then place them on a baking sheet.
Top each tortilla with a spoonful of chorizo and Cotija cheese and fold like a taco.
Divide among the plates and spread the remaining bean mixture.
Top with cilantro, slices of avocado, and the remaining chorizo and Cotija cheese, and enjoy!
Order our Chorizo!
Be sure to try our other recipes featuring our line of Mexican chorizo brands made with all-natural ingredients. Let us know how you liked the recipe by tagging us on Facebook, Twitter, and Instagram. Be sure to also buy chorizo online with our nationwide shipping. Contact us for more info about our products.