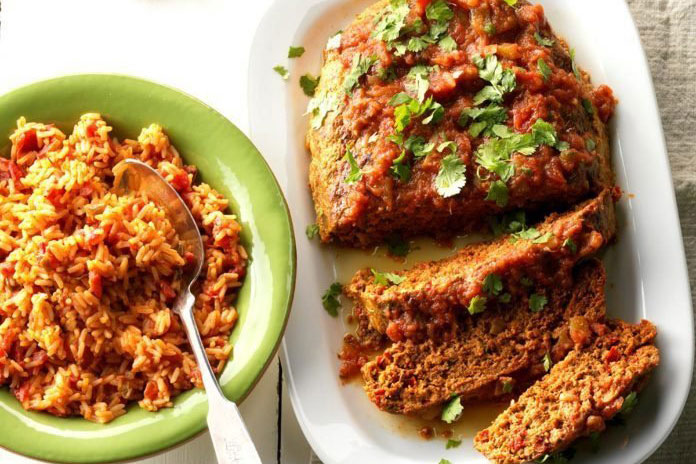 16 Dec A New Twist on a Classic Dish: Chorizo Turkey Meatloaf!
Recipe and photo courtesy of TasteOfHome.com.
For tonight's feast, put a new twist on a classic dish for dinner. If you've never tried chorizo turkey meatloaf before, then now is definitely the time! For this recipe, we'll be substituting the recipe's choice of chorizo with our own Guerra's Brand. It comes to us via the talented chefs at TasteOfHome.com, so check them out! A quick note: we suggest using a slow cooker.
Preparation Time
25 minutes
Cooking Time
3 hours
Total Time
3 hours and 30 minutes
Serves
6
Ingredients
1 pack of our Guerra's Brand chorizo
1 pound of lean ground turkey
1/3 of a cup of 2% milk
2 slices of white bread, torn into small pieces
1 medium sweet red pepper, finely chopped
1 small onion, finely chopped
1 seeded and diced jalapeno pepper
2 large eggs, lightly beaten
2 tablespoons of minced cilantro
2 minced garlic cloves
2 teaspoons of chili powder
1 teaspoon of salt
1 teaspoon of ground cumin
½ of a teaspoon of dried oregano
½ of a teaspoon of pepper
¼ of a teaspoon of cayenne pepper
2/3 of a cup of salsa (your choice)
Directions
In a large bowl, combine the bread and milk. Let it sit until the bread absorbs the milk.
Add the remaining ingredients except for the salsa and cilantro.
On an 18-inch by 7-inch piece of aluminum foil, shape the meat mixture into a 10-inch by 6-inch oval loaf. Cover it with foil.
Transfer to your slow cooker and cook at 165°F for 3 hours.
When done, drain the fat.
Top the meatloaf with the salsa and cilantro and let it sit for 10 minutes.
Enjoy!
If you loved this meal, then check out our other recipes! Take a photo of your chorizo turkey meatloaf and tag us on Facebook, Twitter, and Instagram!