03 Dec

Chorizo and Spiralized Sweet Potato Breakfast Casserole

Photo and recipe courtesy of Alex Snodgrass of TheDefinedDish.com.

Clear some room on the table this holiday season for this mouth-watering chorizo and spiralized sweet potato breakfast casserole made with our own Guerra's Brand pork chorizo. Alex Snodgrass of TheDefinedDish.com created this tasty casserole and made sure to add Chorizo de San Manuel because it's her favorite!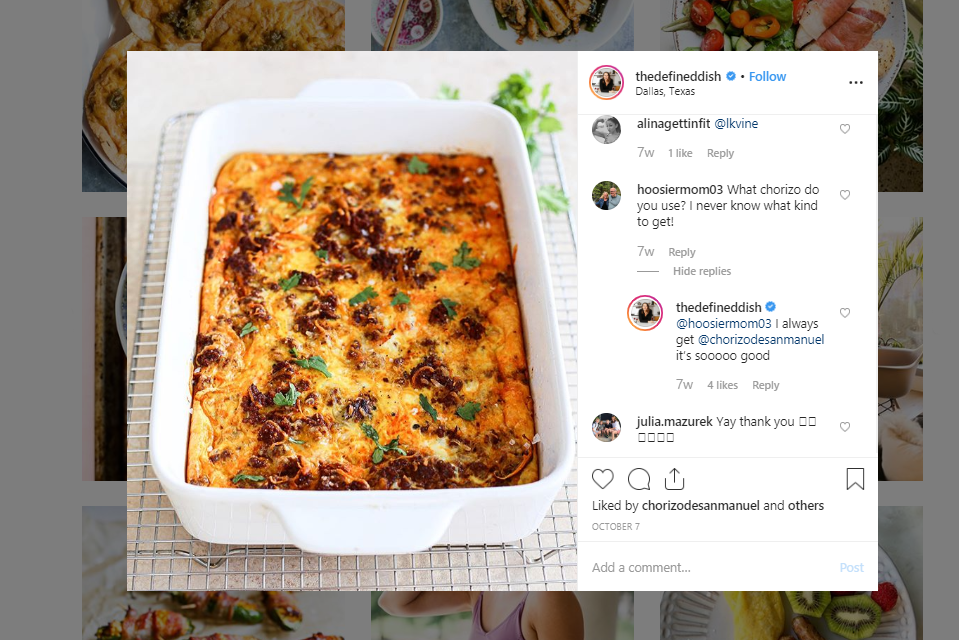 Ingredients:
1 package of Chorizo de San Manuel Guerra's Brand pork chorizo
2 cups of spiralized sweet potatoes
8 large eggs or 10 small eggs
1 tsp. of kosher salt
½ tsp. of black pepper
¾ cup of heavy cream (Nutpods Original Dairy-Free Creamer is acceptable)
¼ cup of shredded Mexican blend cheese
Directions:
Preheat your oven to 350°F and coat a 9×13 baking dish with non-stick cooking spray.
Cook the chorizo in a large skillet over medium heat for about eight minutes while breaking up and stirring.
Remove the skillet from the heat and place to the side. Removing the grease is optional but we love the flavor it gives the dish.
In a large bowl, whisk your eggs, salt, pepper, and cream.
Spread the spiralized sweet potatoes across the bottom of the prepped baking dish, then spread the cooked chorizo on top of the potatoes. If you kept your grease, spread it on the chorizo.
Next, pour the egg mix over the top. Gently shake the baking dish so everything is spread evenly.
If using cheese, sprinkle it over the top.
Cook in the oven for about 20 minutes.
Let it sit for a few minutes before serving.
Try this casserole recipe yourself! Be sure to snap a photo and tag us on social media below!
Enjoy!