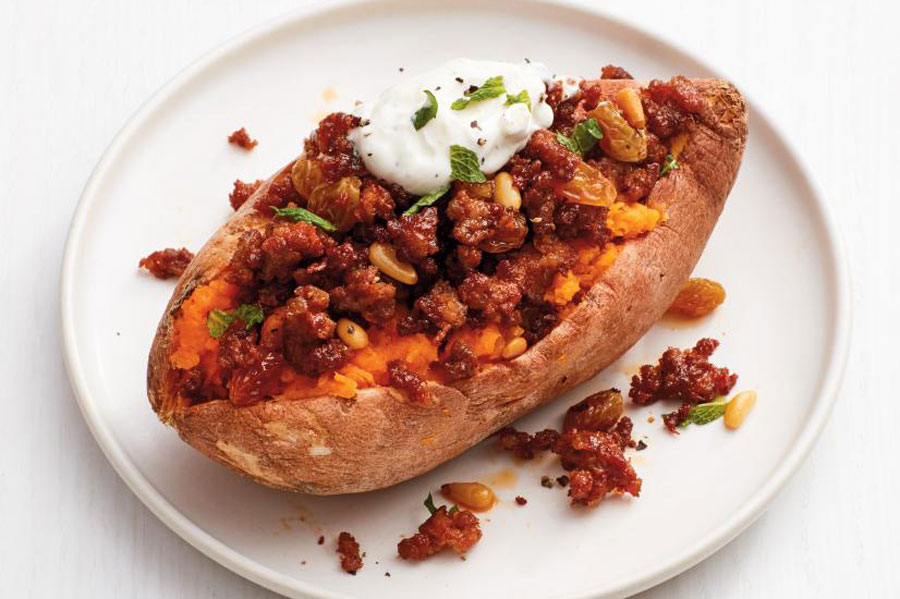 01 Feb

Create Nutritious Mexican Chorizo Stuffed Sweet Potatoes

Photo and recipe courtesy of FoodNetwork.com

Eating healthy doesn't always have to include a salad, or bland eggs. You can your favorite ingredients in portions to any healthy dish. What better heart-healthy meal than Mexican chorizo stuffed. sweet potatoes? Even some healthy dishes lack protein, but that is where our Mexican chorizo types come in. We want to thank the brilliant chefs at the Food Network for this inspiring nutritious dish.
Preparation Time
20 mins
Cooking Time
35 mins
Serves
4
Ingredients
¼ cup golden raisins
1 glove of garlic, minced
4 medium sweet potatoes
2 tablespoons of pine nuts
1 tablespoon of pickling spice
1 cup of plain free greek yogurt

 

Chopped fresh mint, for topping
Kosher salt and freshly ground pepper
¼ cup plus 1 tablespoon of extra virgin olive oil
8 ounces of fresh

Mexican chorizo,

casings removed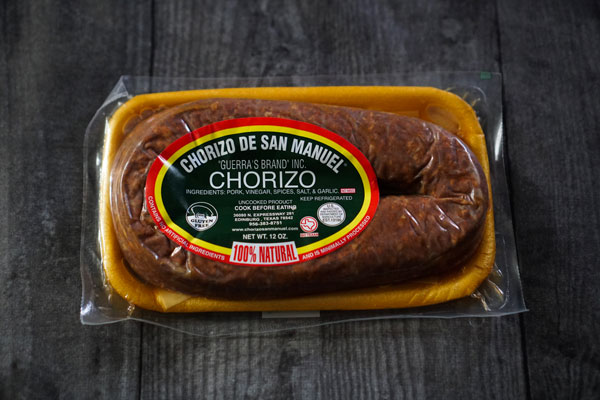 Directions
Preheat oven to 450 degrees F.

 

Pierce the sweet potatoes all over with a fork and microwave on a microwave-safe plate until tender, 20-25 minutes.

 

Meanwhile, heat 2 tablespoons olive oil in a small skillet over medium-high heat.

 

Add the pickling spice and cook, stirring until toasted, about 1 minute. Transfer the spiced oil to a mini food processor and pulse until the pickling spice is finely ground, about 1 minute.

 

Transfer the spiced oil to a medium bowl and stir in the yogurt, garlic, 1 teaspoon of salt, and a few grinds of pepper. Set aside.

 

Soak the raisins in ½ cup warm water in a small bowl for 10 minutes.

 

Meanwhile, heat 2 tablespoons olive oil in a large nonstick skillet over medium-high heat.

 

Add the chorizo and cook, stirring and breaking up the meat with a wooden spoon, until browned and crisp for 5-6 minutes.

 

Stir in pine nuts and cook, stirring until lightly toasted, for about 30 seconds. Transfer the chorizo mixture to a bowl.

 

Drain the raisins and stir them into the chorizo mixture.

 

Arrange the sweet potatoes on a foil-lined baking sheet.

 

Drizzle the remaining 1 tablespoon olive oil and season with salt and pepper, rub to coat evenly. Roast until the potato skins are crisp, about 10 minutes.

 

Split open the sweet potatoes and fluff up the flesh with a fork, season with salt and pepper. Top with chorizo, yogurt sauce, and mint.

 
Check out the full recipe here! 
Try all 4 Types of Mexican Chorizo
When it comes to our signature chorizo, we offer a few varieties:
Signature recipe pork chorizo

 

Savory and tender Beef chorizo
Lean and juicy Chicken chorizo
Classical spicy San Luis chorizo
Order chorizo online, and try a few different recipes this new year. Contact us online if you have any questions regarding our shipping.