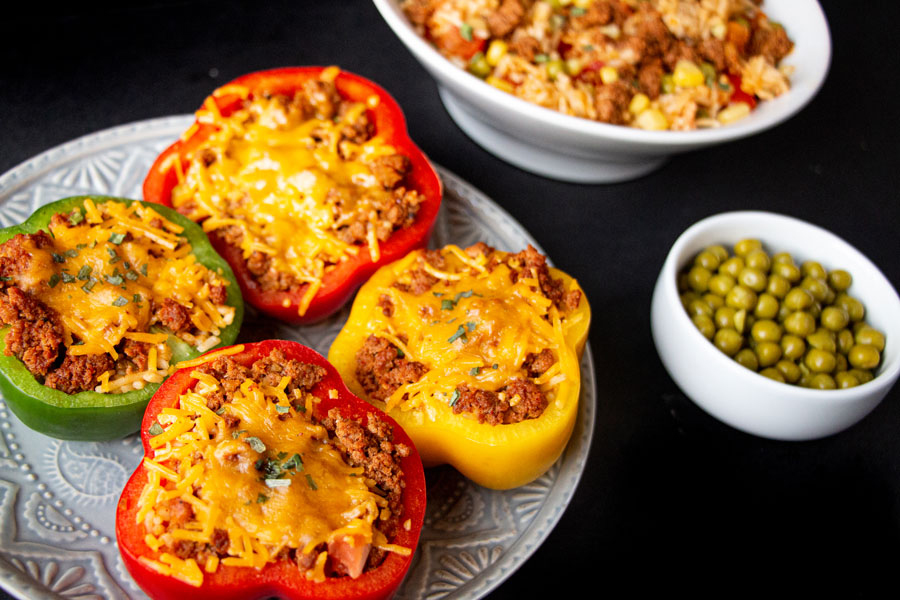 22 Sep Pop These Chorizo-Stuffed Peppers in the Oven Next Time for Dinner!
Recipe courtesy of Allison Miller of TornadoughAlli.com.
Who doesn't love a stuffed pepper? Stuff one with some Chorizo de San Manuel and you'll be taking it up a notch! This Chorizo-Stuffed Pepper recipe comes from Allison Miller of TornadoughAlli.com and it's a delicious, modern take on a Mexican classic. We promise you'll be serving this to the entire family in no time!
Preparation Time
10 minutes
Cooking Time
15 minutes
Serves

4 servings
Ingredients
2 large green peppers cut in half and seeded
1 10-ounce package of our pork chorizo
1 8-ounce block of cream cheese, softened
1/2 a can of corn, drained
1/2 a can of black beans, drained and rinsed
3/4 cup of Mexican cheese, blended
Directions

Preheat your oven to 375°F.
In a medium-sized pot, fill with water and bring it to a boil. Add the peppers and parboil for about 5 minutes or until slightly tender. Remove and let them cool.
Fry the chorizo in a pan until cooked, about 1 to 2 minutes.
In a bowl, mix the cream cheese, chorizo, corn, black beans, and Mexican cheese.
Place the peppers cup-side-up on a baking sheet, fill them with the cream cheese mixture, and sprinkle with more cheese if desired.
Bake the peppers for about 15 minutes or until the cheese is bubbly.
Remove from the oven and top with cilantro and sour cream if desired.
Serve and enjoy!
This recipe is sure to impress the entire household! If you're a chorizo fan looking for more recipes, then click here to check them out!