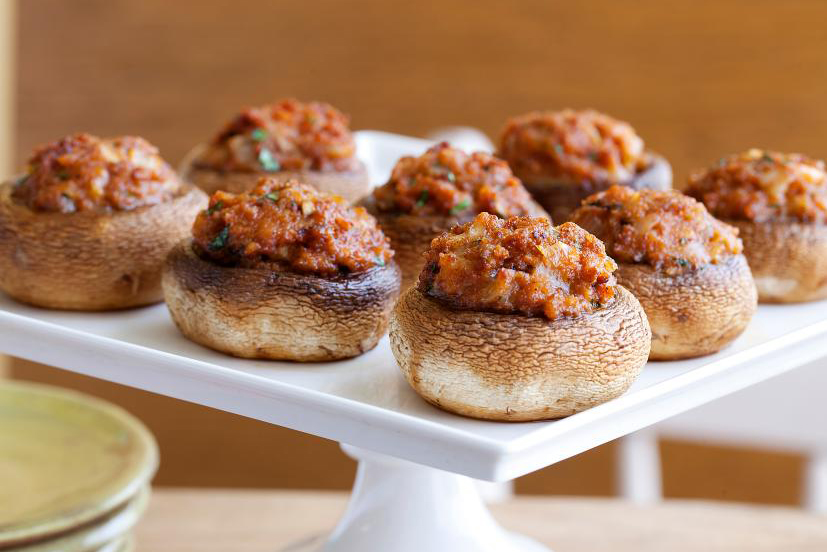 07 Feb Enjoy Mexican Chorizo Stuffed Mushrooms for 2 this Valentine's Day
Photo and recipe courtesy of Daisy Martinez of FoodNetwork.com.
We hope you have a big appetite for this delicious chorizo-stuffed mushroom platter featuring our very own Guerra's Brand pork chorizo. We would like to thank Daisy Martinez from FoodNetwork.com for this recipe, and hope you add it to your kitchen go-to's this Valentine's day!
Prep Time
30 minutes
Cook Time
10 minutes
Yields
6 servings
Ingredients:
½ a package of Chorizo de San Manuel Guerra's Brand pork chorizo
18 large white mushrooms (about 2 ½ to 3 inches in size)
1/3 cup of olive oil
1/3 cup of finely diced onion
½ cup of breadcrumbs
¼ cup of chicken broth
2 tablespoons of fresh, chopped parsley leaves
1/3 cup of grated Manchego cheese
Directions:
Preheat your oven to 400°F.
Remove the mushroom stems and chop them thoroughly. Make sure to remove the entire stem as this is where you will be stuffing the mushrooms with the chorizo mix.
Lightly coat the mushroom caps with a tablespoon of olive oil and set aside.
Pour the remaining olive oil into a large skillet and set it to high heat.
Start cooking the diced onion and mushroom stems for two to three minutes.
Include the breadcrumbs and continue cooking and stirring until the mix is golden brown.
Place the mix into a bowl.
Cook the chorizo for three to five minutes.
Next, stir the breadcrumb mixture into the skillet.
Add the chicken broth and parsley and fluff with a fork.
Mix in the Manchego cheese.
With a spoon, begin filling the mushroom caps with the chorizo and breadcrumb mix. For a great presentation, pack the cooked ingredients in an attractive mound on the mushrooms.
Lightly coat an oven-ready dish with a non-stick spray and bake the mushrooms for 20 minutes.
When done, take out and serve hot or warm.
If you try this recipe at home, take a photo and tag us on Facebook, Twitter, Instagram!